Peg and I have seen "The Importance of Being Earnest" numerous times, so we didn't expect any surprising revelations in the script, but we do glory in a line delivered extremely well, or a costume making us laugh all by itself. We had also seen each of the actors in other Pacific Northwest productions (some at CenterStage and some other local theatres).
With our granddaughter Sophia very carefully driving, we set out for CenterStage at Dumas Bay. I was anticipating a fantastic English drawing room containing heavy wooden furniture with fancy brocades and portraits hanging on colorful walls. That didn't happen. What we had was minimalist furniture and a carpet. The back wall was lit-up with a slide of an English drawing room. I know, I know . . . COVID has made changes necessary, but CenterStage has a long history of fantastic set designs and I've been spoiled. However, I did live and love the production.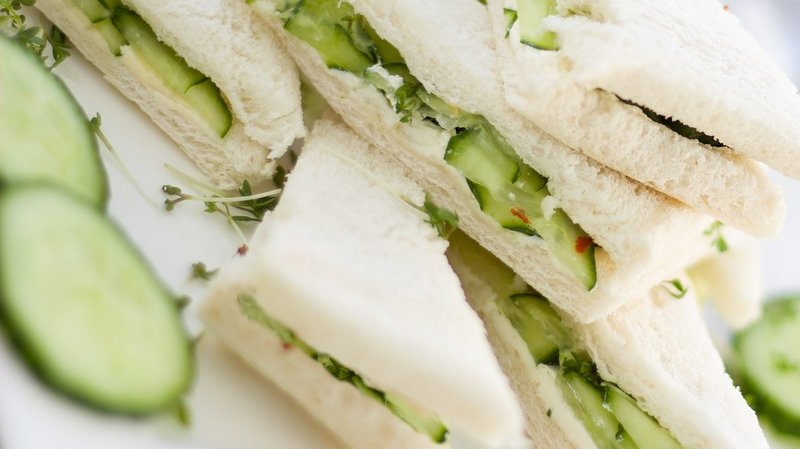 The Victorian era of Britain was the glory-load as the world's superpower for the rich upper-crust. Oscar Wilde's madcap farce was published in 1895, six years before the death of Queen Victoria and the end of the era. This play is filled with mistaken identities, secret engagements, and lovers real and imagined. The eccentric characters of upper crust social standing, the snide comments and repartee have made it a favorite from Oscar Wilde to P.G. Wodehouse and beyond.
Before you can really appreciate the wordplay and famous quotes by Oscar Wilde, you first need to have a taste for the star of the show, the cucumber sandwich. "Lifestyles of the Victorian upper crust were sedentary. This sandwich was designed for taste, not for nutritional value. You're not going to build a house or plow the garden on this sandwich alone." – victoriasrose.wordpress.com/2014/05/04/recipes-traditional-cucumber-sandwich/
The plot includes the behavior of friends and possible rivals of John Worthing (played by Frank Roberts) and Algernon Moncrief (played by Paul Richter). Both are single and both have the ability to fall in love at the drop of a hat or a snack of cucumber sandwiches. The pairing of Frank Roberts and Paul Richter was excellent. Both characters lie through their teeth and have no problem dumping on their friends. Roberts plays the more-staid-and-reserved bachelor, while Richter is the more devilish of the two and not above pushing his limits.
Soon we meet Gwendolen Fairfax, played very nicely by Robin Mae Becar. Gwendolen will soon have her dreams threatened, but is very, very determined to have her own way. John has stars in his eyes and has already set his course.
No matter what course love has already set, reality is introduced by Lady Bracknell (played by Rosalie Hilburn) or Aunt Augusta. The Aunt Augusta character runs true from John Worthy all the way to Jeeves & Wooster and perhaps even to Downton Abbey. Lady Bracknell is the outside arbitrator and final judge of propriety . . . and wealth. Hilburn does her justice and beyond!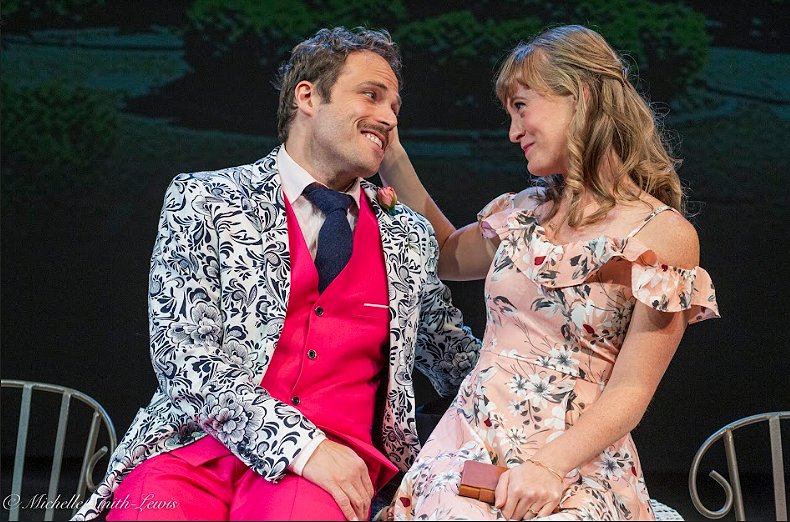 In the second act we get the biggest laugh with the entrance of Paul Richter as Algernon (on the left). Costume designer Renae Ragudo did herself proud with Algernon's shocking pink slacks and vest along with his white and blue floral jacket. They were an optical eye-stunner. A real Aunt Augusta would have had him crossed off the list of appropriate men immediately. Algernon has already fallen in love with love . . . and then meets Cecily Cardew (on the left), who falls in love with him or perhaps already did just from hearsay, as noted in her diary.
Soon the lovely young love interests Gwendolen (left – Robin Mae Becar) and Cecily (right – Colleen Michelle) are defending their choices, drawing their defensive lines, and looking up dates when they became engaged, without telling their men anything of course. The discourse is one of my favorite parts of the play as they women boldly make statements and wild comments until they realize they are not rivals. The head butting is done well by both Becar and Michelle.
The whole plot and denouement are resolved by Miss Prism, played by Sally Brady (on the left) with her very large bag. My favorite character in this production was The Reverend Canon Chasuble (on the right) portrayed very nicely and humorously by Vince Brady (husband of Sally Brady) who has the "hots" for Miss Prism. Love is everywhere.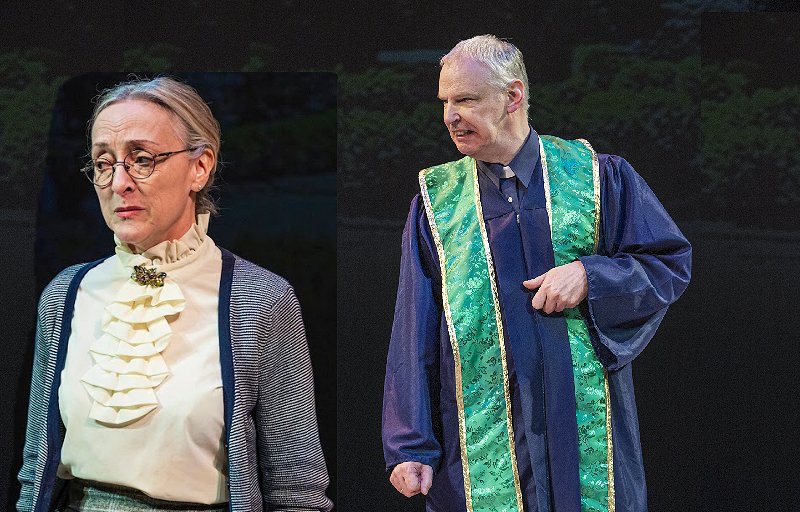 The final approval and recognition of the name Earnest is done through the retrieval of the official British records of command. Holding the book is Lane, the manservant played by Henry Talbot Dorset, who also played John Worthing's butler. With Dorset's experience with CenterStage and their panto, I expected some rolling eyes and some other deprecating looks and comments under the breath. The play was directed by John Vreek, who has massive qualifications. He did a great job, but I thought he could have pushed this comedy just a little bit closer to the edge with Wilde abandon.
After the play, Peg and I disposed of our Wilde Lemonades (an interesting concoction) purchased at intermission. It was a lovely day as we three discussed the play all the way back home from Dumas Bay to Tacoma's North End.