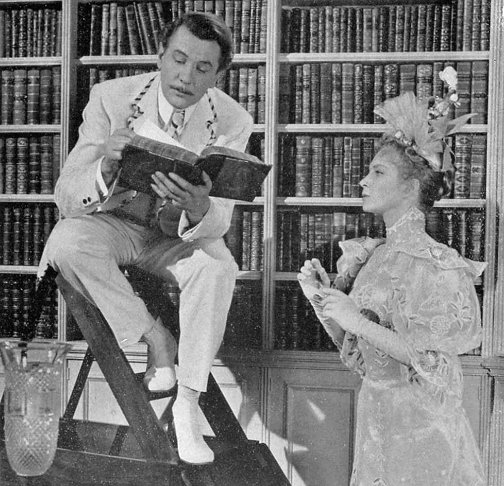 The subtle humor of The Importance of Being Earnest was lost on me as a teenager in acting class at Clover Park High School in Lakewood. I'm not sure if the writing got better or if I finally learned to relax and appreciate the comedy and its commentary on life, love, and society. I don't know how many times Peg and I have seen productions of "Earnest" and enjoyed them all.
The 1952 production of "Earnest" featured Michael Redgrave (Left) and Joan Greenwood (Right), but my favorite character (Miss Letitia Prism) was played by Margaret Rutherford, who was always good with humor.
Almost anything written by Oscar Wilde is quotable. In literature, he was a game changer. Here are just a few if his famous quotes from "Earnest."
"The truth is rarely pure and never simple."
"All women become like their mothers. That is their tragedy. No man does, and that is his."
"If I am occasionally a little over-dressed, I make up for it by being always immensely over-educated."
"I am sick to death of cleverness. Everybody is clever nowadays."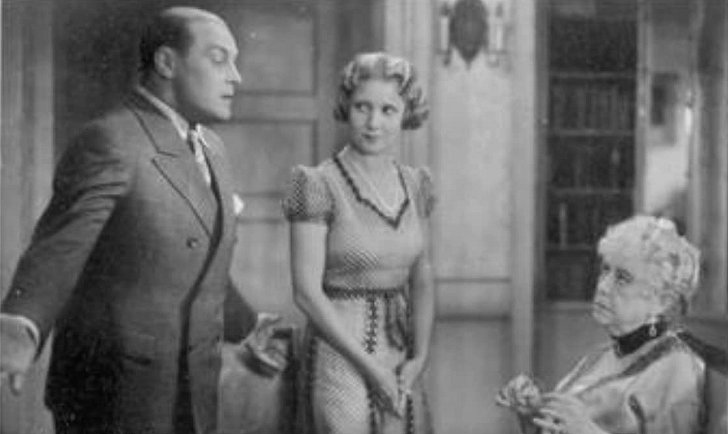 "I do not approve of anything that tampers with natural ignorance. Ignorance is like a delicate exotic fruit; touch it and the bloom is gone. The whole theory of modern education is radically unsound. Fortunately in England, at any rate, education produces no effect whatsoever."
The earliest filmed version of "The Importance of Being Earnest" was in 1932 with Harald Paulsen, Charlotte Ander, and Adele Sandrock in "Liebe, Scherz und Ernst."
"So much of Earnest's charm rests in its language, filled with playful bon mots, nonsequiturs, and subverted maxims that underscore the frivolities of its privileged class. Success consequently relies on a well-orchestrated cast, able to keep in step with the quick banter and comic timing required of Wilde's dialogue." – Beatrice Loayza
I think my first reactions to "Earnest" films that I saw early on, was boredom. It seemed to me that each statement was done reverently and I didn't care about being reverent. Also, the play was written during the reign of Queen Victoria and everyone was expected to be on their best behavior.
I would have loved seeing the 2017 production in Silver Spring, Maryland. Silver Spring Stage moved the play from the Victorian era to the 1920s. Here is how the theatre shared the details of the play: "One of the cleverest comedies by one of the greatest writers in the English language, The Importance of Being Earnest has delighted audiences since its premiere in 1885. Wilde's scintillating, hilarious work introduces us to Jack and Algernon, charming bachelors who are each living a double life, aided by a fictional alter ego called "Ernest." But the two fall truly in love with a pair of proper young women, Gwendolen and Cecily – both of whom are partial to men named Ernest. Will Jack and Algy be able to bring an end to the charade and convince the formidable Lady Bracknell that they are suitable candidates for marriage? Wicked wit and dead-on social satire are wrapped in a confection of dual identities, matrimonial matters, and the provenance of a particular handbag." – https://www.ssstage.org/the-importance-of-being-earnest/
The original opening night in 1895 set the stage for the downfall of Oscar Wilde. His homosexuality was exposed and he was tried and sentenced to two years in prison, where he wrote "The Ballad of Reading Gaol" and then published "Earnest." He never wrote another comic or dramatic works.
"Earnest" changed from enjoyment to slap your knee hilarity when Peg and I became members on BroadwayHD (online productions via Prime). Other productions (you can find several different "Earnest" versions on imdb.com) have run from fifty minutes or so to two-hours and forty-five minutes with this 2018 production – imdb.com/title/tt8918426/
The play was raucous, loud and funny. I also enjoyed Algernon being played by Fehinti Balogun, a wonderful Black actor. It fit. The two young women discuss their diaries and their men as they became fast friends loudly in wild abandon. It did seem a little long, but I've seen it three times.
What has caused me to think about Oscar Wilde and "Earnest" is knowing that we will be seeing the play again as the last of the 2020-2021 Season at CenterStage Theatre in Federal Way. We are really looking forward to the event. I don't know if CenterStage will change the era of the play, but I'm sure they will give us a beautiful stage design for the players to act and cast their spell. The play will run from August 27th – September 19th. For more information visit here – centerstagetheatre.com/
If you would like a copy of the play, you can get one here for free – gutenberg.org/files/844/844-h/844-h.htm