A press release from Office of Rep. Marilyn Strickland.
Congresswoman Marilyn Strickland (WA-10) released the following statement after she secured $12.55 million for eight community projects to benefit the South Sound and its residents.  Strickland's local Community Project Funding (CPF) requests passed the House today as part of H.R. 4502, the appropriations minibus package.
"I am grateful the appropriations minibus package included my request for over $12 million for eight vital community projects in the South Sound. From making investments in pedestrian accessibility, transit-oriented development, housing and clean water, to supporting our veterans, at-risk youth, Tribal nations, families and workers – these projects are an investment in equity and help us build back better for all," said Congresswoman Strickland. "I look forward to seeing this funding in action, and encourage the Senate to pass this bill without delay. Finally, I thank the community partners who worked with me to make this possible."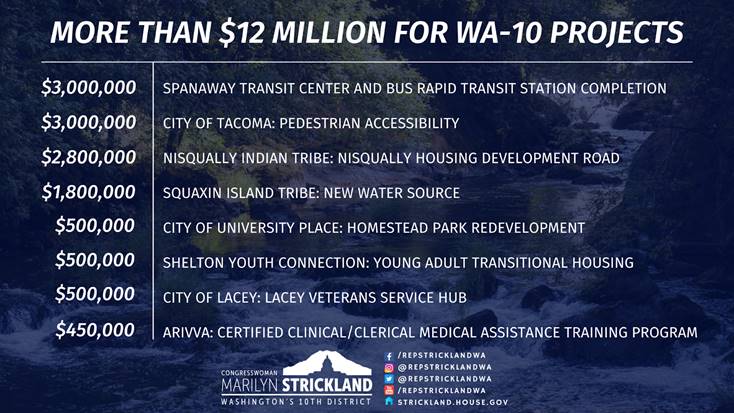 "I am thankful to Congresswoman Strickland for advancing funding for infrastructure investment that will enhance equity and accessibility in Tacoma. Our plan to construct 400 curb ramps compliant with the Americans with Disabilities Act will facilitate better access to transit stops, medical services, and places of employment in underserved areas of our community. With Congresswoman Strickland as our champion for this project, I am very optimistic to see federal funding for this important effort," said Mayor Victoria Woodards, City of Tacoma.
"Homestead Park lies at the heart of our community, and its redevelopment is vital to the sustained success of our growing downtown.  We are excited about the opportunity to partner with Congresswoman Strickland to successfully redevelop the Park in a manner that maintains its tranquil, forested feel while creating space for community festivals and events," said Mayor Caroline Belleci, City of University Place.
"The Spanaway Transit Center will be the southern terminus of the South Sound's first Bus Rapid Transit line, which will give the people of Pierce County a fast, reliable way to travel from south Pierce County to downtown Tacoma and beyond," said Amy Cleveland, Pierce Transit Interim CEO. "It is a critical piece of this project that will provide the next level of transportation in our community."
"I want to thank Rep. Strickland and her team for taking the time to visit the Nisqually Tribe and learn about the immense housing challenges that we face. This project will help deliver the road infrastructure to develop much needed housing on the Nisqually Reservation. The Tribe raises its hands in gratitude," said Chairman William Frank III, Nisqually Tribe.
"This funding for a new water connection source is critical to the health and safety of our people.  It protects the thriving economy that supports jobs for  families in Mason, Grays Harbor, Kitsap and Thurston Counties.  We take great pride in being the largest employer of Mason County,"  said Chairman Kris Peters, Squaxin Island Tribe. 
"CPF assistance for Arivva's Certified Clerical/Clinical Medical Assistant workforce training program will forever change the lives of marginalized and underrepresented individuals in Parkland, Washington, a service and resource desert. Arivva's tuition-free job training program prepares adult students for living wage jobs on a sustainable trajectory," said Dr. Daniel J. Bissonnette, Executive Director, Arivva Center for Arts and Technology.
Learn more about each of the some CPF projects that were included in the House-passed appropriations package below, in order of dollar amount:
$3,000,000 for the City of Tacoma's pedestrian accessibility improvements. This Pedestrian Accessibility Improvement Project will construct 400 curb ramps that have been requested by people with disabilities and where there are identified barriers. This project will construct curb ramps at locations where there is no access between streets and sidewalks for people with mobility issues. This will provide opportunities for people who may otherwise not be able to seek employment.

$3,000,000 for Pierce Transit's Spanaway Transit Center and Bus Rapid Transit Station Completion (at Pacific Avenue/SR 7 BRT route's southern terminus). The Spanaway Transit Center will serve a low-income and high-minority area. Pierce Transit's service area in Pierce County includes 12 federally recognized Opportunity Zones, which are Census Tracts identified as Low-Income Communities. Six of those Opportunity Zones are served directly with by the BRT route originating from the Spanaway Transit Center. The design of Pierce Transit's Stream BRT network aligns with the pattern of essential jobs, meaning transit dependent residents will have access to faster, more frequent and easily accessible stations and routes.

$2,800,000 for the Nisqually Indian Tribe's Nisqually Housing Development Road. The Nisqually Indian Tribe has developed a long-term plan for sustainable community housing development focusing on completion of infrastructure improvements within a 40-acre parcel of tribal trust land specifically dedicated for housing purposes. The new housing site is centrally located on the Nisqually Reservation, and is adjacent to the Tribe's new Health Clinic, Elder's Center, and Public Works facilities. The site will provide space for future development of up to 100 new housing units, including single family and multi-family units, as well as critically needed Elder housing, for low and moderate-income tribal families.
Learn more about the diverse WA-10 Community Project Funding advisory panel and CPF process at this link.