We always like visiting Giorgio's Greek Café for lunch or dinner. When our grandchildren were younger we visited Puyallup more regularly, but we still have our favorite places to dine . . . and one of them is Giorgio's Greek Café. I had just reviewed GyroBites in Tacoma, so Greek food was still on my mind (comments came in suggesting two other Greek restaurants as well). Peg and I stopped in during rush hour traffic. It was surprisingly busy for that time of day.
Peg had a glass of Sauvignon Blanc (wonderful), while I had a Shirley Temple "with lots of cherries." Some restaurants ignore my request and simply bring a glass of Sprite with a little cherry juice with one or two cherries floating on the top. Not so with Giorgio's. Two cocktail saber skewers presented a total of nine cherries. I ate them all before ordering.
Peg ordered Chicken Marsala. Chicken Marsala is traditionally a one-pan Italian-American dish of fried chicken cutlets with lots of mushrooms in a rich Marsala wine reduction sauce. So, why would a Greek restaurant offer an Italian dish? Sometimes they are one in the same. Marsala wine is produced on Sicily where there were Greek colonies as well as all along the Adriatic coast. Peg's favorite dish at Pomodoro's in the Proctor District of Tacoma offers Chicken Marsala with pasta. At Giorgio's it is served with rice. The rich wine and mushroom sauce is delicious with pasta, polenta, or rice. The chicken was cooked perfectly and the sauce was absolutely perfect. It's a simple dish, but delicate. The Giorgio's chef had the right touch. Peg poured a little marinara sauce over her rice, but could well have mixed it with the Marsala sauce. (Oh, never, never, never!)
I chose an appetizer and a side dish. Spanakopita is a baked spinach pie. A flaky phyllo dough crust is stuffed with spinach, onions, cheeses and herbs. The two pies were dangerously close to being over-baked. The corners of the pies were dark, dark brown. There was plenty of feta cheese sprinkled over the pies and the taste was perfect in both texture and flavor. The side dish was roasted Greek potatoes. The Greek potatoes are one of the additions to a Greek meal you should always order. Thick wedges are baked/roasted with a flavorful chicken or lamb stock, olive oil, lemon juice and oregano. The brown potatoes soak up the flavors. I always order butter for my potatoes. Our excellent waitress offered me two dishes with different sized cubes of butter. I simply chose both. The potatoes were pretty good-sized chunks. The larger chunks were under-cooked. This was not a problem. They were excellent the next morning for breakfast. Another favorite side dish is the Greek green beans. They are soft and savory.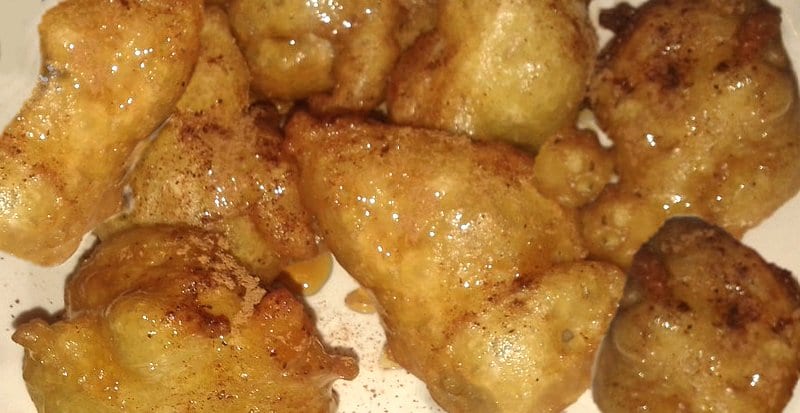 For dessert we had loukoumades. Although, we had them "to go," which means snacking on them immediately and finishing them off at home. Loukoumades are fluffy honey balls which are deep fried and then sprinkled with powdered sugar. They must have been really, really good. I only got one. (He was lucky to get that!)

Mosaics have been around since before recorded history. A mosaic is a piece of art or image made from patterns assembled using small pieces of stone, glass, or tile. Mosaic patterns were widespread in classical times in Ancient Greece. They decorated floors and walls with illustrations and interesting colors and textures. Giorgio's has mosaics near their entrance as well as their bathroom (speaking from simply my own experience in the men's room). They add beauty where it doesn't have to be and gives pleasure to the viewer. We recommend Giorgio's for both their food and decor. The restaurant is located at 328 Meridian, Puyallup, WA 98371. Visit their website for more information – giorgiosgreekcafe.com/