We brought along two granddaughters to CenterStage and Robin Hood. It didn't seem like it, but it had been a decade since we last brought Bella and Sofia to a CenterStage panto. They booed with the best of the audience and volunteered to come on stage, but the younger children were selected. They had a great time.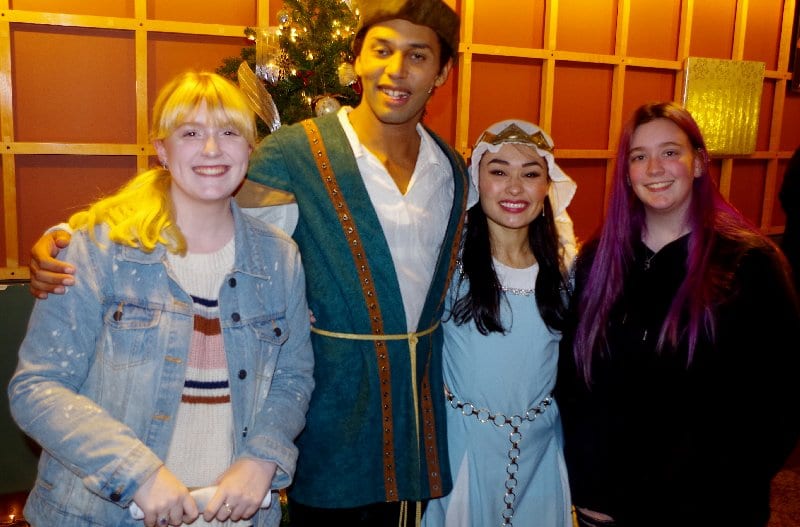 A "panto" (pantomime) refers to an English musical comedy stage production. They generally involve adults playing out a children's story like Sleeping Beauty, Rapunzel, Pinocchio, and others. There are stupid jokes and puns, mostly well over the heads of children in the audience. Even with jokes flying by at every second, Pantos usually run long. Just sit back and relax. Participation is not only encouraged, it's almost mandatory.
Alana Dale (Jessie Silleck) is the little lute playing minstrel that leads us through the story of Robin Hood and gives us our assignments: Whenever someone mentions the Sheriff of Nottingham (played by Henry Talbot Dorset), we are to shout "Hi, Shirley!" Why? Who cares? It drives him crazy. In a nutshell we cheer on the good guys and boo and hiss at the bad guys. My wife Peg and I brought her sister Pat, who has visited CenterStage before, but never seen a panto. Of course, everyone needs to see a panto.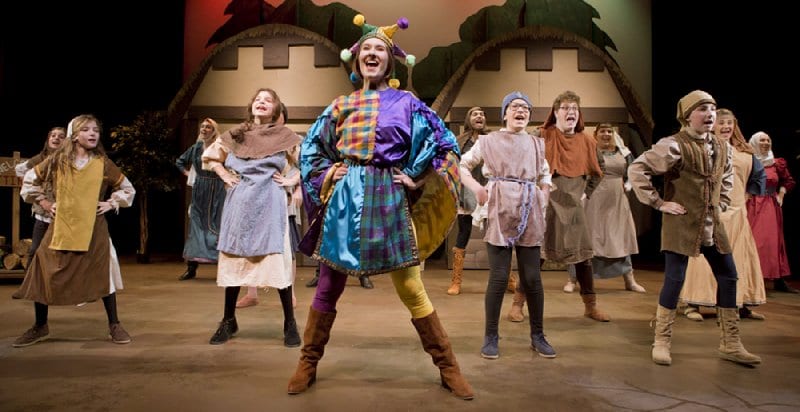 The hero, Robin of Lakewood, was played by Joshua Jerard. We had seen him as Prince Caspian in Rapunzel from last year. He plays child heroes very well.
A traditional character in a British panto is "The Dame." It's an outrageous female character played by a male actor. This time the character was Nanny Nancy played by Brad Cerenzia. With that character part you cannot over-do it. As Nanny surveyed the crowded theatre she caught the eye of a young man and said, "You look like my fourth husband." When someone asked how many times she had been married Nanny says, "Three." When Nanny is cooking up something special for dinner with many ingredients, the question is asked, "Do you have dry, roasted nuts?" Nanny quickly responds, "No, I always walk this way." Within seconds we are two or three jokes further into the mayhem. We last saw Cerenzia at Lakewood Playhouse where he was playing the part of Max Bialystock in The Producers. We watched the performance two nights in a row. Bella and Sophia joined us for the second performance. We would have liked to have seen it a third time or fourth time.
Cassie Jo Fastabend is the choreographer and plays Dingleberry, the servant of the Sheriff of Nottingham. Cassie is a graduate of the University of Puget Sound. Peg and I met while we were students at U.P.S., so we adore fellow Loggers. Cassie has been performing on stage since she was a child. We have seen her in numerous local productions. Her choreography made everyone look graceful.
Sam Barker played Friar Tuck. We saw him when he played the king in the Pinocchio panto. I enjoyed Sam in Bye Bye Birdie, where he had a nice solo.
Nigel Kelly was another familiar face from the cast. We saw him last in Bye Bye Birdie and Pippi Longstocking (Lakewood Playhouse).
Helen Marion did an outstanding job as Maid Marion. This is her third panto. She has performed at Book-It Repertory Theatre in Seattle, which is one of our favorite Seattle Theatre groups. Helen did a great job singing, dancing, and acting. We can hardly wait for her fourth panto performance.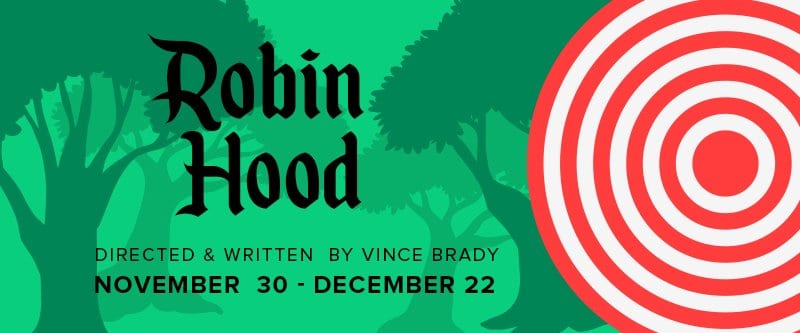 In the end, Robin of Lakewood is saved by a returning King Richard as the Sheriff of Nottingham is demoted to being the Sheriff of Enumclaw. Our grandkids had a great time, Peg's sister Pat enjoyed her first Panto, and Peg and I laughed and cheered and are still carrying around a smile when we talk about the show.
Robin Hood runs thru December 22 – centerstagetheatre.com/EventDetails.aspx?EventID=236