If you are into historical novel that are exceedingly well researched, combined with quite some action, twists and turns, and a generous dash of romance, Washington bestselling author Kate Breslin's latest novel, launched only yesterday, will be just your cup of tea! "Far Side of the Sea" takes you on a harrowing quest through Western Europe for something that all of the nations at war are interested in.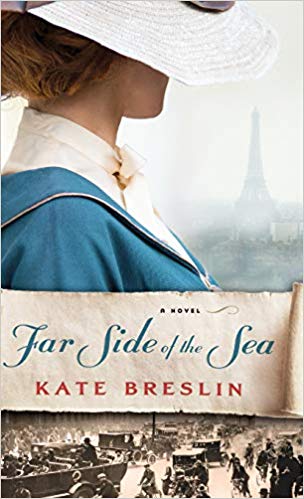 It is rare to have a WW I novel set in at the last stretch of the historical event, and yet this is exactly what Kate Breslin does with her intriguing novel "Far Side of the Sea", a stand-alone though also the sequel to her novel "Not by Sight". The story starts in April 1918 and presents us with a shell-shocked, maimed young English officer, Colin Mabry, full of survivor's guilt. Employed by the MI6 as a decoding officer in Hastings, UK, he receives a call for help from a woman in Paris, France, he once promised to rescue from the war theater when possible.

Paris, at that time, is under heavy artillery by the Germans. Yet, the city is teeming with French allies. Breslin manages to paint a marvelous picture of the City of Love in times of unrest and rationed supplies. Here, Colin meets the person who has messaged him – but she only shares her initials with whom he had hoped to meet.
As a thrilling espionage story unfolds, the reader is tossed from one suspicion to the next. Is the young woman Colin is traveling with really who she says she is? The sister of the one who shares her initials? Are the motifs of the people sending him on his mission honest? And does duty prevail when the heart speaks a different language?
A German master-spy on the verge of delivering himself into the allies' hands, the South of France as a playground for spies, the neutral grounds of the Spanish borderland, and detailed insight in the carrier pigeon system used during WW I are shaping a well-researched backdrop for a story that leaves you breathless.
As with all of Kate Breslin's novels, Christian Faith is a feature that helps her characters through the direst situations. I hugely enjoyed the deep, vivid characters, the twists and turns of the plot, and the detail of historical description. And if good literature is defined by that it should teach and be entertaining, Breslin again delivers it at its finest.
"Far Side of the Sea" by Kate Breslin is available anywhere you can buy books.