The Lakewood Playhouse took a chance and became the first northwest theater to produce the show Forbidden Broadway. The musical features parodies of Broadway and off-Broadway shows. The "chance" is not because the lyrics can be risqué or anything, but because the audience needs to be attuned to musical theatre and quite a bit of its history. My wife Peg and I brought three teenage granddaughters. I was a little worried after the opening introductory number and then a parody of the musical Chicago. However, once those two bits were out of the way, the production was rolling and worked well.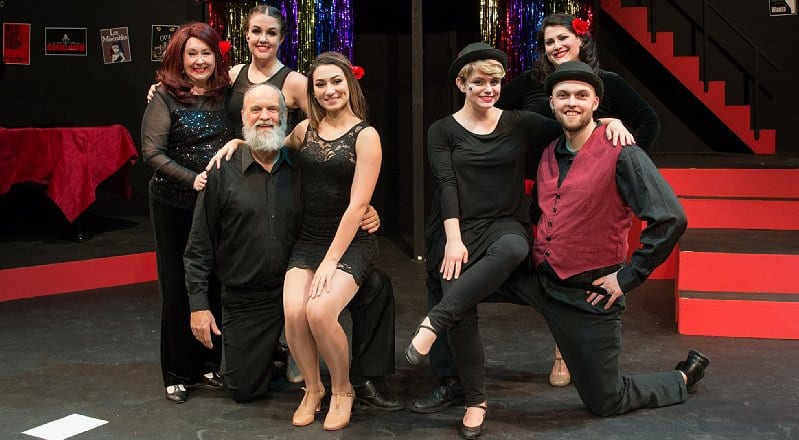 Sharry O'Hare as a long-time unemployed child star from Annie sang "Tomorrow." With a cigarette in one hand and lapdog in the other she did the curly haired moppet justice. The dog, Toby did such a good job in this number and another in the second act, I thought he was a puppet. Sharry has a long history of theatre in our community.
I have long believed Stephen Sondheim musicals were an exercise in . . . uh . . . well . . . oops I almost fell asleep . . . so, I was amused when the troop made fun of his musicals and his lyrics.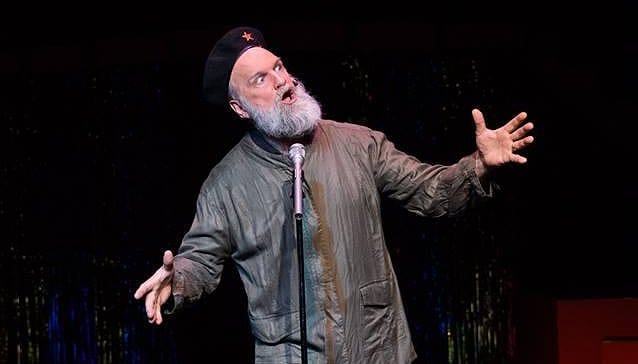 Michael O'Hara did an excellent job singing a Les Miserables parody as well as Mandy Patinkin performing as Che in Evita. One of the joys of The Tonight Show with Johnny Carson, especially when it was produced in New York City, was the parade of Broadway performers performing on stage. The first time I ever saw Mandy Patinkin was on The Tonight Show. I forget what song he sang, but I was amazed. For those of you who don't know who he is from Broadway, might recognize him from The Princess Bride and his quote, "My name is Inigo Montoya. You killed my father. Prepare to die." O'Hara prepared us to laugh . . . and we did.
Barbra Streisand was targeted by Dawn Padula. You need pipes to make fun of Barbra and Dawn did an excellent job of it. We've seen Dawn perform jazz at the University of Puget Sound, where she is Director of Vocal Studies. She has sung opera, Gilbert & Sullivan, and . . . Sondheim.
Ashly Roy did a great job lampooning Liza Minnelli . . . "My mother was Judy Garland . . . Dorothy in the Wizard of Oz." Ashley was also the choreographer for the production. I loved the mini-steps for the Les Miz . . . songs. Her movements and voice also showed off well as she sang Memories from Cats.
The performances above were my favorites, but there were many other excellent numbers featuring Alexis Dyson (Mama Mia). She's a high school senior and this is her first production in community theater. This was Katheryne Elliot's first production since graduating from Thomas Jefferson High School in Auburn. Katheryne has extensive credits and a very nice voice, so we hope to see more of her.
Four of our group had last seen Timothy McFarian in Little Shop of Horrors at Lakewood Playhouse. We enjoyed him then and we enjoyed him in this production as well. On stage for the entire performance was Benjamin Bentier at the baby grand piano. Very nice work.
This production was directed by Alyson Soma. She has directed many plays in the Seattle/Tacoma area. Although there were maybe twenty open seats for the Sunday performance, I doubt this will happen again. For more information and tickets visit https://www.lakewoodplayhouse.org/