And two days from now won't be much better.
You read about them in the news. Too often. Way too often.
In his book "Coping with Traumatic Death: Homicide", co-authored with Bob Baugher, Ph.D., Lew Cox estimates there are 14-16,000 people murdered each year in the U.S.
One of them was Carmon, the 22-year-old daughter of Cox. She was shot six times. In the back.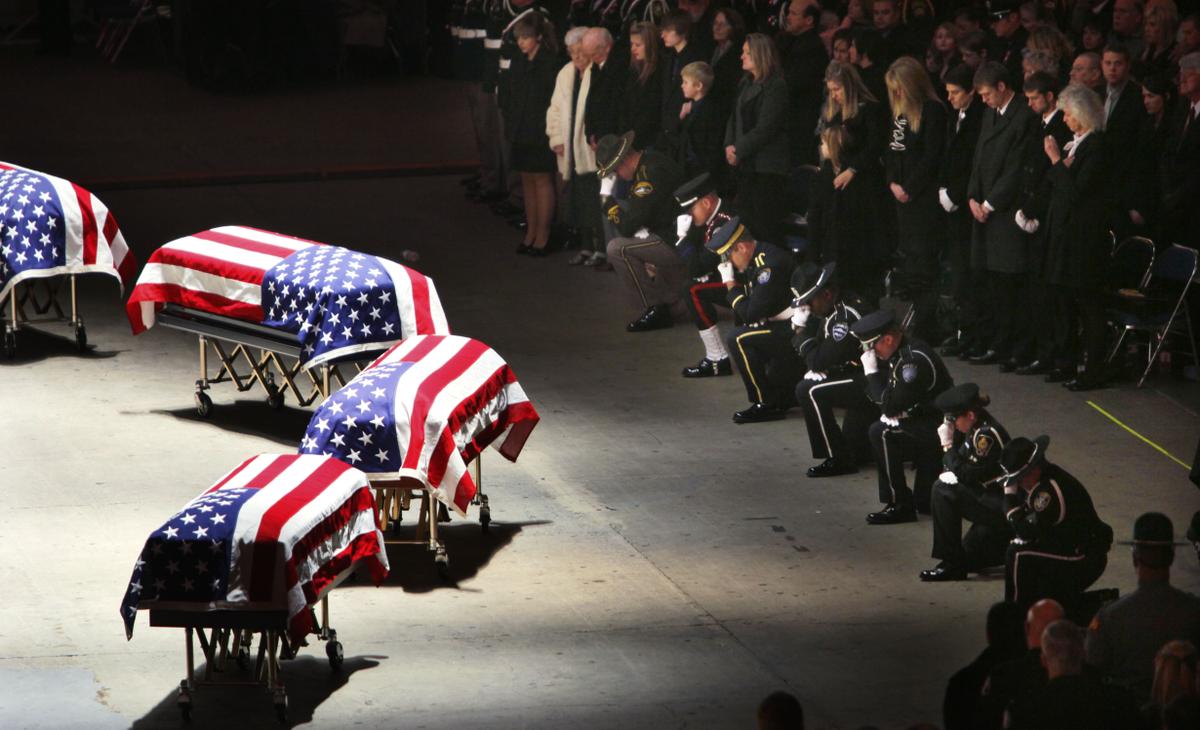 "She died on an elevator as she crawled to get help," Cox writes.
I just finished reading yesterday the heartrending story of the long, long journey that has led Cox today to his position as founder and executive director of Violent Crime Victim Services, a homicide victim advocate organization in Tacoma, Washington.
Cox refused to let the death of his daughter 31 years ago to embitter his life.
"We can't change history," Cox writes in his final words of his book, "but with God's help we set the bar to live a standard that would make Carmon proud."
To that end Cox has worked with more than 900 families as a homicide victim advocate and has been in over 240 murder trials acting as a court companion for co-victims of homicide.
And yet, for all that compassionate help Cox has been over so many years to the extremely hurting, there is, at the same time, a companion hostility – a righteous indignation if you will – that is a balance, a healthy balance though seemingly incongruous, toward the perpetrators of evil so horrific.
When he gave me his book he asked, "Have we met before?"
Unbeknownst to either of us – after all there were over 20,000 people there, upwards of 2,000 police and fire representatives of more than 150 agencies from across the country and Canada in a 10-mile procession that would take five hours to complete – I was there with Cox who was serving as a chaplain on a law enforcement peer support team in attendance at the Tacoma Dome for the memorial service for the four officers of the Lakewood Police department who were gunned down in a local coffee shop.
November 29 will be the ninth year – somehow 'anniversary' doesn't suffice – since this horrific crime took place.
My role at that December 8, 2009 memorial service was to assist a church in a similar capacity as Cox, though the two of us would not cross paths that day.
Not until he gave me his book one month ago yesterday, did we meet for the first time.
It's only 62 pages long but, given the subject matter, it's a tough read.
Each time the parole hearings for the slayor of Carmon Cox are held, Lew Cox writes in that book, he makes the long trip to Soledad State Prison in Central California to read an impact statement as to why the parole for the murderer of his daughter should be denied.
That's because for Cox, for all of us really, there is an instinctive sense we've all been given, that "murder is the most horrid crime in the sight of God and man."
And ironically, for those who read such things, the commentaries on the proverb for this day, November 27, all agree with Clarke – source of the quote directly above and which follows.
"He who either slays the innocent, or procures his destruction, may flee to hide himself: but let none give him protection. The law demands his life, because he is a murderer; and let none deprive justice of its claim."
"Grace cannot come into the place of justice till justice has been fully recognized. Human sympathy, human forbearance, under the false title of grace, do not stand in contrast to this justice" write Keil and Delitzsch.
And as much as we would want to be compassionate, caring, and somehow communicating to all mankind such endearments, we do in fact a murderer no favors by denying him the opportunity to realize the life-time consequences of a life so unnecessarily taken.