Can you imagine breast feeding children until they are four or five years old? In times before farming, humans lived a nomadic life. Baby teeth have a hard time chewing roots, berries and available meat, so pre-neolithic mothers breast fed their children for years.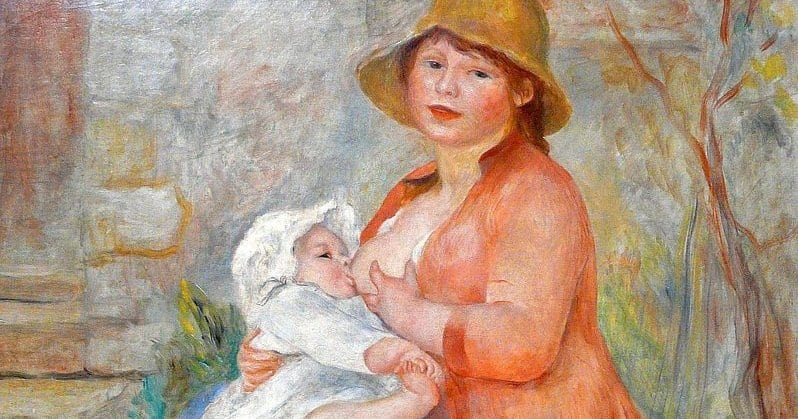 Hunting and gathering kept people on the move. About 12,000 years ago people discovered grass-borne cereal grains. Our tool-making ancestors began pulverizing grains and eventually moved from gathering grains to cultivation. Smashed, shattered, and ground nuts, legumes, and grains mixed with a little water, blood, juice, or broth was both filling and healthy and didn't fight back with tooth and claw.
Water and ground-up grains or vegetables becomes porridge. Vitamin rich porridge from Africa, Asia, all over Europe, and around the world fueled the neolithic revolution and gave us civilization.
I've just been reading a transcript of a recorded history of Bill Elder's mother. Bill is a recent immigrant to Lakewood from the wilds of Seattle via Ballard. Years ago he spent time with his mother just for recording her stories. I recommend this type of family history preservation to all families. – thesubtimes.com/2018/11/06/everyone-has-a-story-please-share/ – Bill's mother related a story from 1904 when her father was very sick just before she was born, "Mama said the first thing she got him to keep down was when she had cooked a turkey. You know then they were boiled and all that. She took some of that broth from the cooking and thickened it with meal; that was the first thing that stayed on his stomach." What Bill's grandmother had given his grandfather was gruel. Gruel is a thinner version of porridge and has a bad connotation over much of European history. For hundreds of years gruel sustained peasants who rarely could afford meat. When the Titanic sailed for America on its maiden voyage, "gruel" was listed on the menu for Third-Class passengers.

Gruel leads to soup. The word comes from "sop." There is nothing like having a crusty and chewy piece of bread to sop up broth or gruel. Locally, I like stand-in-line-until-it's-gone Infinite Soups. – nwadventures.us/Soup-Lunch-2017.html – I dream of the parsnip soup at Pacific Grill – pacificgrilltacoma.com – And I love the hearty soups and rolls at Bruno's in Lakewood – thesubtimes.com/2018/08/13/brunos-restaurant-german-polish-restaurant-review/
A stew is a combination of gruel and solid food ingredients. My favorite stews combine roast beef, gruel (gravy), and vegetables. My favorite vegetables for stew are parsnips (when we can afford them), carrots, potatoes, celery, onions, and cabbage. What's really great about stews is that you can use the cheapest cuts of meat. Stewing cooks them and tenderizes them. A classic example of stew is Mulligan Stew. Probably derived from Irish immigrants coming to America in the 1800s and the hobos of the early 1900s. It's easy to picture a neolithic clan gathered around an earthen pot filled with foods hunted and gathered and translating that into a camp of hobos contributing local donations from the fields near the railroad tracks into one communal pot. It's even easier to remember our own backyard BBQs, camping, or even just consider our military making dinner away from their base . . . using cans of rations instead of raw meat and fresh tubers.
I prefer grits as my porridge of the day and sometimes I use Cream of Wheat in a pinch. Cream of Wheat is a great thickener for soups and stews. I don't like oatmeal as porridge, but love it as cookies. I could probably survive on Top Ramen noodles if I used my own flavorings and veggie additions for the soup. I always have room for gruel, soups, and stews. They can be so healthy and so tasty. Just like Mom, or Peg, made. My wife Peg makes great soups with roasted bones put into a pot and covered with water and simmered. Take out the bones and add soaked cannellini (white beans), meat du jour, carrots, onions and celery and our own seasoning mix of garlic powder, smoky paprika, ground pepper, and turmeric. Just add a side dish of cornbread to soak up the juices and you have food fit for royalty, at least royalty that likes to eat well.