Returning from a meeting at the Chehalis Rotary Club, my friend Dick Dorsett and I talked about food as we drove back to Tacoma. Dick mentioned the AAA Buffet, which I had never heard of or seen. No wonder, just off South Tacoma Way, it's tucked in behind the Union 76 Gas station (10310 S Tacoma Way, Lakewood, WA 98499). I asked another friend who, like Dick, and they also thought the food was good . . . and fairly inexpensive. – aaabuffet.com/
Like most buffets you pay before you eat. There is a counter near the entrance where you pay. A helpful young lady welcomed my buddy Jim Harris and me. The size of the place is overwhelming. The space is quite large and the center of it is filled with heating and cooling trays of more food than you could ever eat in a year or more. Jim scouted out his own menu, although why he chose mashed potatoes, I'll never know. As we ate Jim told a story of his service in the U.S. Navy. He was stationed for a while in Hawaii. A friend took him to visit with friends. They were Chinese and only ate with chopsticks. Jim visited often. Once he mastered chopsticks he never needed a fork again when he ate there. They gave him a nickname: Chopsticks Jim. At the AAA Buffet Jim ate with chopsticks. He enjoyed the noodles, broccoli, several versions of chicken, and a sausage pastry.
Although I used a fork, I had more on my plate than Jim. I got a good sampling. One surprise was steamed clams. Later I found bread, that would have gone well with the broth. I enjoyed the fried rice with sweet and sour sauce and General Tso chicken. The deep fried shrimp were also good. The fried chicken was over-done, but the fried bananas were perfect (and probably my favorite food item).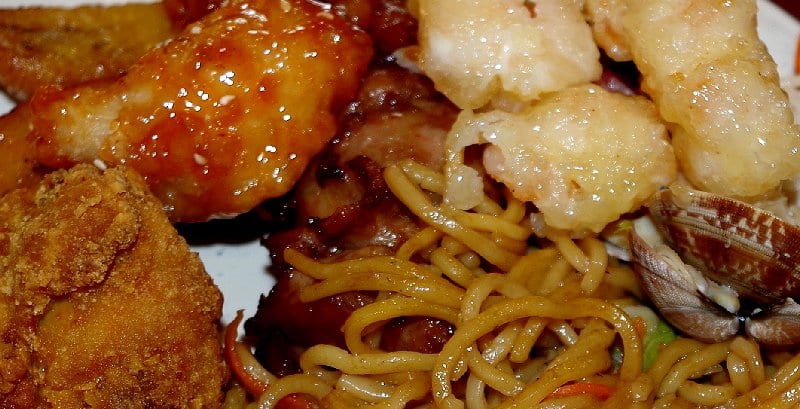 I should have scouted out the food trays before helping myself. On my last walk about, I discovered the Mongolian Grill, where a smiling chef was ready to cook up whatever I desired from their selections. Next time I'll start there.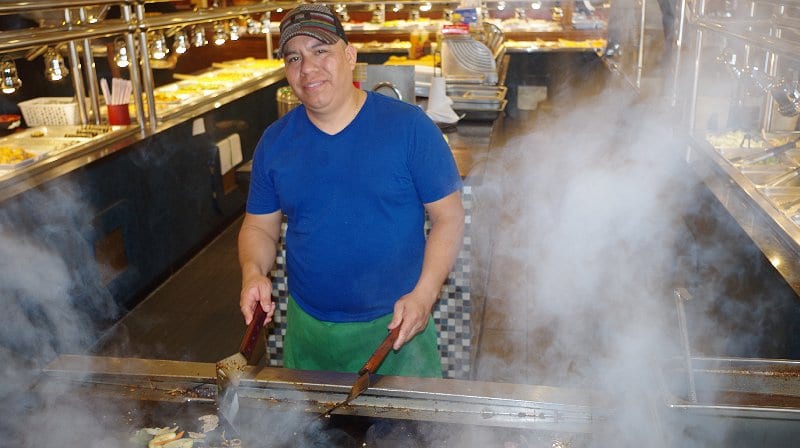 Although I did go back for dessert, I passed by the confections and chose melon and sushi instead. The sushi was excellent. There was nothing exotic, nor did I see my favorite sushi (eel), but I delighted in the five items I chose.
One of the good things about a buffet restaurant is that they save time . . . especially at lunch time. You walk in and within minutes you have a plate of food. If the buffet food doesn't meet your expectations, then it's not a good choice, but AAA Buffet will see me again. Now, that I've sampled, my next visit will see me do less tasting and more enjoying. Even though this is a Chinese Buffet, they serve more than just Chinese food. I spied individual pizza rounds. So, if you bring your family, don't worry about the kids being picky. They'll be able to find something they like.