Her trademark design fur trimmed coats are sold out at Nordstrom, but designer Sachi, tiny as her name still faithfully practices Tai Chi with the Empty Step Tai Chi Association. This diminutive woman who came to the United States as a bride at the end of World War II, built a career in design for top department stores after her husband's death. Although Sachi, who uses only the single name, is 88 and the elder member of the Empty Step Tai Chi Association, attending both regular class and sword form. What's sword form?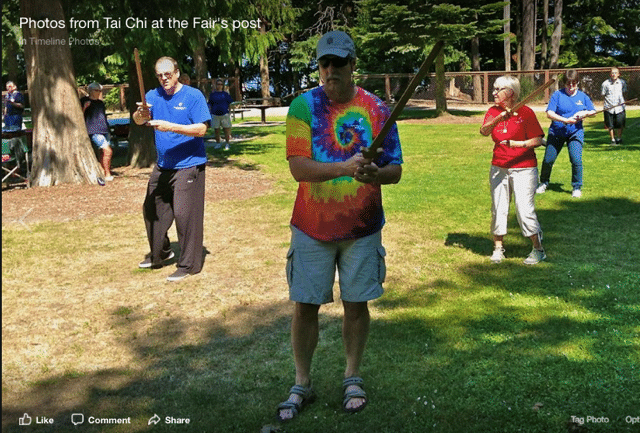 Attendees at the Tai Chi at the Fair presentation on Saturday, Sept 22 will have a chance to find out and see Sachi demonstrate another of her skills when she shows how to make a "Dump Cake" in which no mixing is necessary, cans and cake mix box are open and dumped in a pan, to make a delicious dessert suitable if unexpected company drops in.
This is one of three "retro recipes" that will be demonstrated – recipes that go back to the 1940's when housewives learned to use whatever was on hand. Other retro recipes will be Marti Lambert's Sunshine Fruit Salad and Larry Francis's vegetarian specialty, Gobble Good Casserole. Jim Gutterman will demonstrate "The Bachelor Wings It" – to fix wings in an air-fryer. Tail Gate Sandwiches will be demonstrated by KaCe Whitacre, and Dorothy Wilhelm will emcee.
Tai Chi at the Fair will be presented from 10:30 to 12:30 in the Home Arts Section of the Pavilion on the Puyallup Fair Grounds. This provides an unusual opportunity to see different forms of Tai Chi presented by members of Empty Step Tai Chi Association and the audience will be encouraged but not pressured to join in.
And because laughter and music encourage good health, there will be transition music by popular Jazz song stylist Cara Francis, and gifted Lakewood gospel singer and composer, John Reed.
Oh – and there will be samples of all the dishes prepared. Hard to believe this is all free with admission to the Washington State Fair. Info: Dorothy