Billboard Magazine once crowned him "Instrumentalist of the Year", internationally he is known as one of the world's best harmonica players, a founding member of the band "WAR", an incredibly versatile fusion jazz composer, and the producer of a top-notch line of harmonicas: Lee Oskar. Fewer people might know him also as the gifted painter he is. Visitors of this year's Lakewood Film, Arts, and Book Festival will have the unique opportunity to meet the world star who has put his heart into supporting the event for its cultural meaning for its participants as well as for the area.
Susanne Bacon: Lee, how did you come to play the harmonica, and who gave you your first instrument?
Lee Oskar: I got my first harmonica in 1954 when I was six years old. An American friend of my family brought it over. Harmonicas were the "in"-thing that year, just as it would be the yoyo or the hula-hoop in the following years. Anyway, I fell in love with it. At first, I was probably hopeless to anybody else who listened. But you can't judge an artist by their technical skills only. I heard arrangements and an orchestra in my head when I was playing. In the end, I was able to translate this to the instrument. The harmonica immediately connected to me in a very profound way.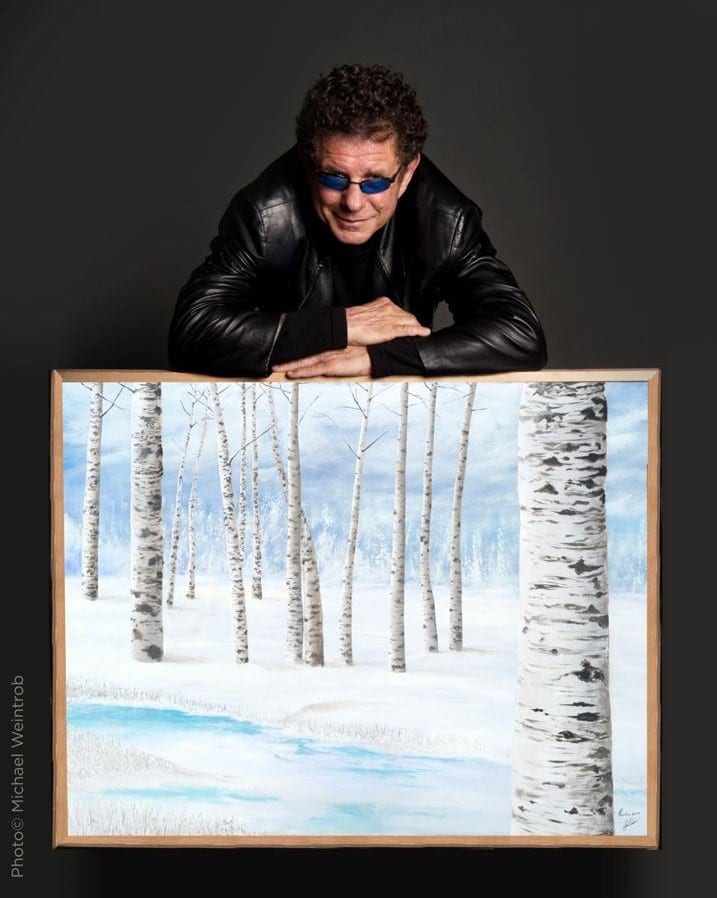 Susanne Bacon: You have received nine gold and two platinum records with the band you founded, "War". You have released three wonderful solo albums. Are you still playing in a band or rather as a soloist with back-up orchestras or bands?
Lee Oskar: Legally, any members of the former band are restrained from using its name or its anagrams to refer to as where we come from. Which makes it a little difficult to get a bigger number of gigs, as we cannot promote ourselves as we would like to. Basically, the former band members perform now as the Lowrider Band. I also perform as an individual artist and with my band "Lee Oskar & Friends" made up of some of the greatest local and international musicians around. I'd like to play a lot more at different venues in the Pacific Northwest. The next gig will be at Bake's Place in Seattle on September 22.
Susanne Bacon: You are the composer of your own music. Who or what inspires you the most?
Lee Oskar: I'm a melody man. That said, lyrics somehow fall into place. It's the tuning of my harmonicas that brings me a line of a melody, and from there I develop the piece. These days I'm working on two projects that I'm composing and producing. One is very symphonic; it is called "Passages" and goes back to World War II and the death camps. And I play with my band, "Lee Oskar & Friends". I'd love to have this band and a symphonic orchestra play together sometime, so I'm still looking for a suitable symphonic orchestra in Seattle or Tacoma or another place in the region.
Susanne Bacon: The uniqueness of your harmonicas lies in the availability of replacement parts, so you don't have to toss an entire instrument just because a reed has fatigued. I get that part. But could you explain to me in which way the tuning of your instruments determines your style of music?
Lee Oskar: I started producing my own harmonicas 35 years ago. And since then I have tried to promote different tuning all over the world. Whereas e. g. natural minor scales are abundant in Latin music, Hip-hop, or Reggae, a wide range of ethnic music uses harmonic minor scales. You may want to use differently tuned harmonicas for different styles of music, but there are other possibilities of adjusting the scales as well.
Susanne Bacon: You are coming to the Lakewood Film, Art and Book Festival this year. You will be showcasing one of your beautiful instruments, with a plate signed by actor Bruce Willis. Did Bruce Willis actually play this same instrument?
Lee Oskar (laughs): Bruce Willis actually plays Lee Oskar harmonicas, but he didn't play this specific one. If you present, raffle off, or sell a signed instrument, you don't necessarily want the instrument to have been touched by another person's mouth.
Susanne Bacon: You are not only a famous musician. You are also a versatile painter. When did you discover this gift?
Lee Oskar: I have always drawn. And I have always been fascinated by Nature. Even as a child I could sit by a pond and observe frogs or insects by the hour. And then I just drew.
Susanne Bacon: You seem to get a lot of painting inspiration from the Pacific Northwest landscapes. Do you rather paint plein-air or in a studio?
Lee Oskar: When I came into the overcast Pacific Northwest I thought that rich colors would make sense. I also found that if you just paint the outline of an animal and fill it in black, or you paint some black branches and you set them against a colorful background like a sunset, it makes a wonderful contrast. Otherwise, I'm not conceptualizing any of my paintings. I have set up a studio. Everything simply comes up as I paint. It's the same as with music. Everything is made up in the moment. I paint every day. I sometimes even get up at night to paint. I guess, I don't get much sleep.
Susanne Bacon: Do you have any exhibition coming up in the region other than the Lakewood event any time soon?
Lee Oskar: I've only decided recently that I want to separate from a number of my paintings. I'd love to have exhibitions, but I don't have a gallery yet. I have just begun to contact galleries. I'm taking it step by step.
Susanne Bacon: With such a colorful and versatile career – have you ever contemplated to write your memoirs?
Lee Oskar: Many people have approached me about this already. Let other people do it when I'm dead. I'm collecting everything – tickets, business card, newspaper clippings, things that might be unique. One day they will all tell my story.
The 6th Annual Lakewood Film, Arts, & Book (FAB) Festival takes place on September 28, 29, and 30, 2018 from 12 through 9:30 pm at the Shirley McGavick Conference Center at Clover Park Technical College, 4500 Steilacoom Boulevard SW. The book/author section is open daily from noon till 6 pm. Lee Oskar will be present with a stand in the book fest/vendor section as well as with paintings in the art section on Saturday and Sunday. Please find further information, also about the Art Exhibition, at https://www.facebook.com/lakewoodfilmartsbooks.