Has your doctor suggested that Tai Chi would improve your balance, flexibility, and disposition? Maybe you've read that 250 million Americans now practice Tai Chi and find it helpful for controlling stress, anxiety, fatigue, or anger and even migraine headaches.
No matter the reason, if you've been wondering how to get started with Tai Chi, there's a great chance to learn about this ancient personal development form and martial art at the Washington State Fair. On September 22, members of the Empty Step Tai Chi Association will demonstrate various aspects of the art, including the Yang Family Form, the Sword Form and Chi Gong, giving audience members a chance to see and try for themselves. Simultaneously, Empty Step members will demonstrate stress-free cooking – easy dishes that are good enough to serve company from ingredients most of us always have on hand.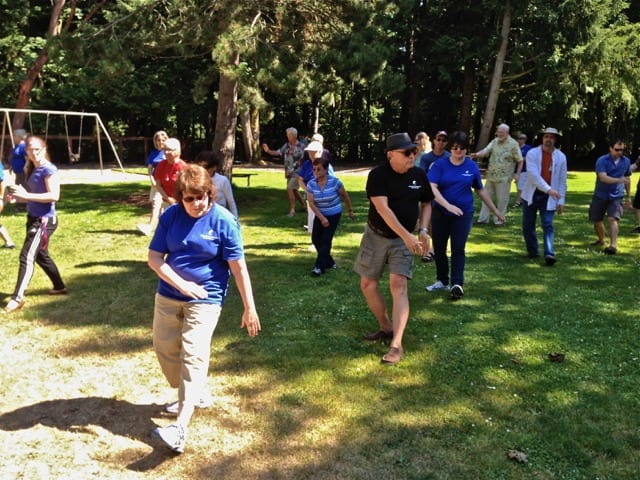 Tai Chi instructor, Jim Gutterman, whose Bachelor's Chicken was a hit last year returns with "The Bachelor Wings It" as he demonstrates preparation of party wings. Jim will also lead practitioners and audience members in Sword Form Tai Chi. Empty Step co-founder Steve Allen will be on hand for instruction, to answer questions, and perhaps prepare a surprisingly easy breakfast omelet. KaCe Whitacre will demonstrate easy Tailgate Sandwiches.
There are even be demonstrations of retro recipes, like Dump Cake which was very popular during WWII. It will be demonstrated by a diminutive Tai Chi student who goes by the single name of ,Sachi. She is a clothing designer who for many years was a staple in top department stores. Sachi, by the way, is 88 years old. Tai Chi is good for everyone. A second dish that was popular in the 40's and 50's is Sunburst Fruit Salad, demonstrated by Tai Chi student Marti Lambert. Instructor Larry Francis will demonstrate a vegetarian entrée', Gobble Good Casserole. There will be tasting samples of all dishes. News Tribune columnist and speaker Dorothy Wilhelm will emcee (she's not cooking this year. That could be a good thing.) There'll be live music by Jazz stylist Cara Francis and Gospel musician John Reed. Not at the same time. All of this is breathtakingly crammed into the two hours between 10:30 to 12:30 on Saturday motning, Sept 22 in the Home Arts Pavilion. Free with admission to the Washington State Fair in Puyallup.
Info 800-548-9264 or Tai Chi at the Fair