When I saw the Tacoma Little Theatre list of productions for this their 100th Anniversary, I wondered "why." My wife, Peg and I had seen The Foreigner at least two or three times. We remembered it as amusing. This production is not amusing, it is outright FUNNY!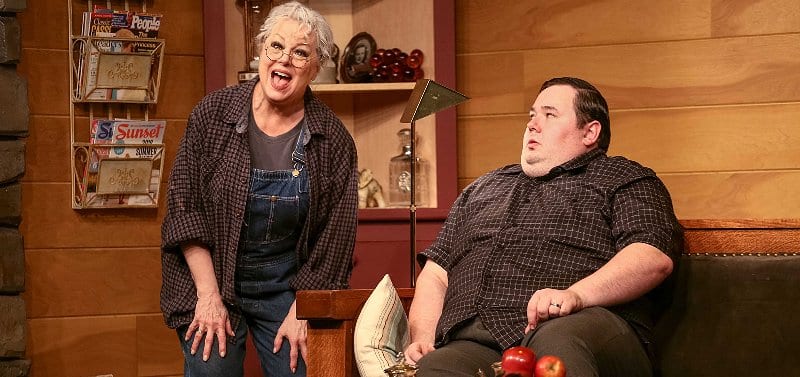 The Plot: "In a rural fishing lodge in Georgia, Froggy LeSueur, a British demolitions expert who sometimes runs training sessions at a nearby military installation, is trying to put his friend, Charlie Baker at ease. Charlie, a science fiction editor whose wife finds him boring, has come along for a much needed getaway. The problem is he is pathologically shy and is terrified at the prospect of having to converse with strangers at the lodge for three days. Froggy must leave to tend to his military responsibilities, so, in an attempt to help his shy friend, he tells Betty, the owner of the lodge, that Charlie is from an exotic foreign country and neither speaks nor understands English. Thus, conversations at the lodge carry on around Charlie much as if he weren't there at all, since it is assumed he can't understand them anyway. For example, Catherine Simms informs her fiancé, the reverend David Marshall Lee, that he isn't as sterile as he said he was and that she's pregnant. Owen Musser, county property inspector who has been threatening to condemn the lodge, wants a private conversation with the Reverend David. In the process, Charlie overhears a plot to undermine the value of the lodge through condemnation so that David can buy it at a bargain price. In addition, Ellard Simms, Catherine's slow-witted brother, appears on the scene, and it becomes apparent that David is trying to make him appear to be an idiot so that he can't inherit his half of the family money." – bard.org/study-guides/synopsis-the-foreigner
For me, the funniest scene in the production is the quarrel between lovers Catherine (Caiti Burke) and David (Cody Wyld Flower). While they argue, Charlie, a rather large foreigner (Blake R. York, who also appeared as Ralphie in the TLT wildly successful Christmas Story) tries to hide himself on the sofa just twenty feet away. Blake performed a great piece of comedy business with just him, a couch pillow, and his body. The audience slowly shifted their attention from the un-happy couple to Charlie . . . and never looked back.
Super accolades to Charlie Stevens who plays Ellard Simms, the younger brother of Catherine. Ellard blossoms under the relationship with foreigner Charlie as he first exudes frustration and then friendship. The senior high school student holds his own on stage. He gets plenty of laughs and his character saves the day.
Michael Michener plays S/Sgt. Froggy LeSueur who set up the false persona of the foreigner Charlie . . . and is then bewildered by Charlie's transformation. In this scene Charlie makes up a story using gibberish, a mish-mash of English, and pantomime as he entertains everyone. The Froggy character is key to the plot and the final blast of humor and just desserts.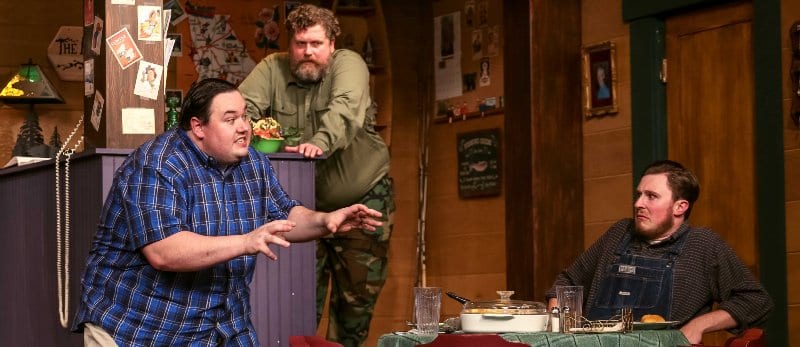 Building inspector Owen Musser, played by Brian Cox looks and kinda sounds like good-ol'-boy, "Get 'er Done" comedian Larry the Cable Guy, is in cahoots with fiancé David. Together they want to fleece the Simm family. Owen is even more loathsome than a mere money-grabber; he is a member of the "invisible empire," a sheethead as some say . . . the leader of a local group that vows to rid America of Jews, Catholics, and foreigners. Cox does a wonderful job. Can you spell HATE! Peg said, he'd scare her if she met him on a dark evening. We were both amazed at how he kept from swallowing the toothpick that he constantly balanced on his tongue and only took out to gesture.
Owen is skeptical of Charlie and then half afraid of him as he seems like a demon with a foretelling of doom and a threat "bees come down!" Charlie at first just explains that what he was saying was "Please, calm down." Owen is till not sure . . . and later, slight-of-hand and black magic combine to send a . . . well, you need to see the production. Play director says, "I hope you laugh until your belly aches as tears stream from your eyes the way I have during the entire rehearsal process."
The set, by Charlie . . . I mean TLT set designer Blake R. York was excellent and looked very much like a comfortable lodge. Jen Aylsworth played the lodge owner, but didn't have a lot of funny lines. Too bad. The women did a good job, but the men controlled the action and Charlie and Ellard carried the day.
This is just the first of the 100th anniversary productions. I can hardly wait to see the others. For more information, and tickets, please visit: tacomalittletheatre.com/