The turnout for the Soroptimist Golf Tournament this year at Oakbrook was excellent. I like to think that this was because I was unable to play, which could have meant that others had a better chance to win prizes and awards.

"Founded in 1921, Soroptimist International is a global volunteer movement with a network of over 75,000 club members in 122 countries. Advocating for human rights and gender equality, at the heart of Soroptimist International's advocacy is its work across six UN Centres, where our UN representatives ensure that the voices of women and girls are heard. Our membership work on grassroots projects that help women and girls achieve their individual and collective potential, realise aspirations and have an equal voice in communities worldwide." – soroptimistinternational.org/
Here locally, Soroptimist works with the Pierce County Sexual Assault Clinic and other non-profits, battles against human trafficking, and provides scholarships to women and girls. Each year the golf tournament brings in around $10,000 to help with those community efforts. Last year my friend TJ Staupe, my granddaughter's boy friend Gabe, and my youngest son Patrick all had an excellent game . . . even if the score didn't reflect it.
Supporters of Soroptimist were able to sponsor various holes and competitions. There were various groupings for scoring and plenty of opportunities for thanking the local businesses who participated.
Golf prizes were donated by the sponsors and ranged from Seattle Seahawks clothing to tailgate equipment.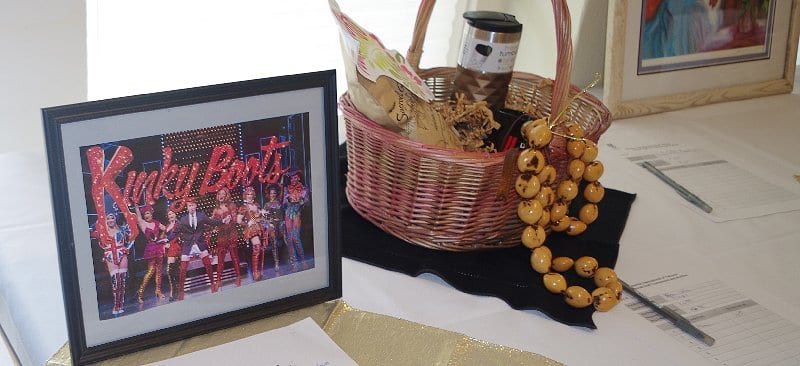 In addition to sponsorship and player fees, there was an auction of a wide variety of art and entertainment opportunities. Tickets to Kinky Boots at the Broadway Center, a basket of books and games, eye-catching scarves, and signed pieces of art offered bargains to those who bid on the treasures of their choice.
The catering side of the Oakbrook Golf Club always delivers a winning menu: fruit salad, Caesar salad, cornbread with sweet butter, corn on the cob, baked beans, BBQ chicken, fall off the bone ribs, pumpkin pie, and apple cobbler. Always excellent . . . and delivered with great service.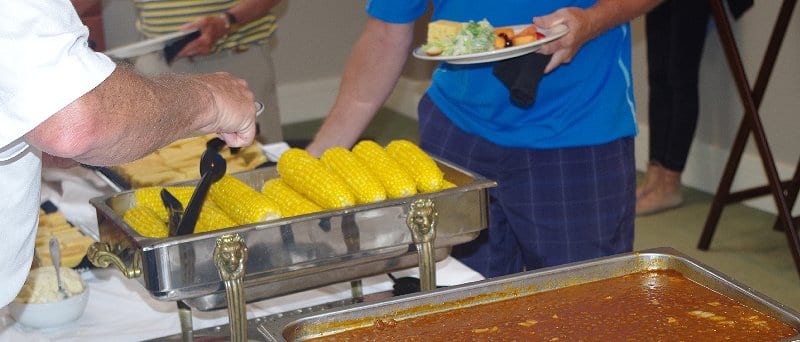 A box of pies drew lots of attention. President Jan Runbeck and Past President Bernie Bell gathered over an extra hundred dollars. They were offering incredible pies baked by Anglea's Restaurant in Midland. I passed on the first few pies, but was ready to pay $20 for a blackberry pie. Some lucky diner bid $20 before I could raise my hand. I knew if I said $25 he would say thirty and if I said thirty, my wife Peg would have something to say to me.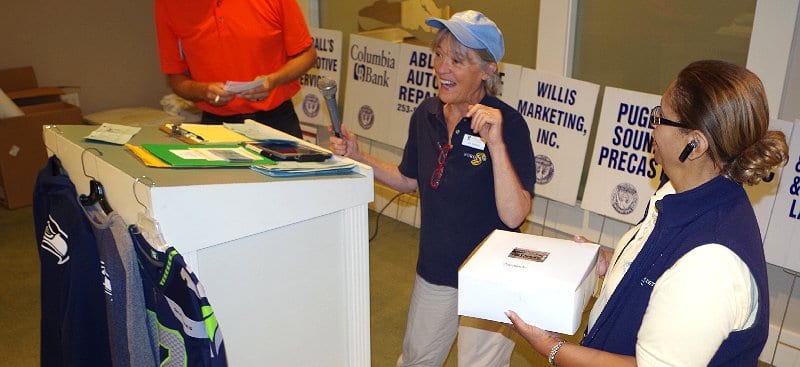 The golf tournament was fun and made money for Soroptimist International and local projects to help people in Tacoma and Pierce County.