What fascinates us so much about autobiographies? Is it because we know the person? Or because of the person's extraordinary experiences? A Kirkus Best Book of 2014, "A Long Way from Paris" is author E. C. (Elizabeth Corcoran) Murray's story about personal transformation during a goat herding winter in Southern France back in 1980-81. Born in Holyoke, MA, it certainly hadn't been anticipated that her college education with a Bachelor's degree in Philosophy would see Elizabeth in a pretty isolated wilderness to eventually become who she is today: a highly recognized author, the founder of The Writers Connection, and a teacher of writing classes in the Puget Sound region in Western Washington.
Susanne Bacon: Elizabeth, "A Long Way from Paris" is not just about some geographical distance. What is Paris a metaphor for in your book?
E. C. Murray: Originally, I flew to France to be a writer in Paris. Instead, I ended up living off the grid in Languedoc, a region of France which, for centuries, had been home to people with highly independent spirits. Languedoc historically had its own customs, own language (Langue D'Oc), and had been populated by Cathers, who were slaughtered because of their independent spirit during the Albigensian Crusades. The title reflects the difference between the free spirited, rural mountain culture of Languedoc and that of highly civilized Paris. In fact, when I left the farm, I had a heavy, southern France accent and a vocabulary packed with words and phrases not used in Paris. In this sense, my experience truly was A Long Way from Paris. Metaphorically speaking, the Languedoc off-the-grid mountain living contrasted to Parisian life in several ways: rural versus urban; nature versus modern civilization; fresh air and spirit versus rules and convention. That said, no place is utopia, one must always sacrifice something, and that is an important point in A Long Way from Paris. We all make choices, some more conscious than others.
Susanne Bacon: How did the language barrier you experienced during your time in France impact your experience?
E. C. Murray: I became far more understanding and compassionate after experiencing the language barrier. In America, I used to think (maybe just subconsciously) that people who spoke with an accent were less intelligent. In France, I learned, if a person is speaking with an accent, they are probably more intelligent because they know two, if not more, languages. I think this insight is especially relevant today where Hispanics, especially, face harassment for not speaking English.
I learned the anxiety in feeling left out because I couldn't understand people conversing near me. I also now understand when people are offended by foreign speakers. One can feel discomfort and paranoia when you don't know what people are saying around you. These are confusing, difficult feelings.
Back then, in 1980-1981, I once went three days without hearing a word of English. When I heard a couple speak English at an Inn, I lunged at them, talking and talking like a thirsty person in the desert. It felt such relief to hear my native language; to communicate. That gave me insight as well. How many migrants go through that experience every day?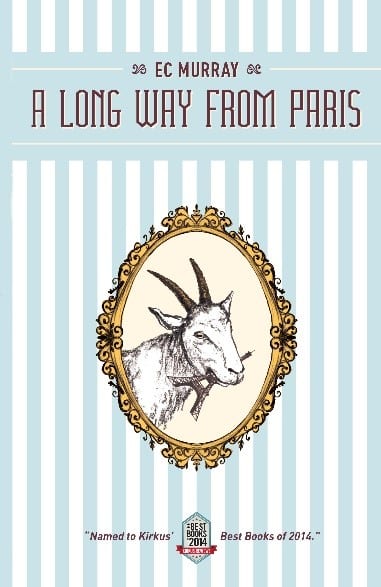 In practical terms, at the farm we all skillfully pantomimed. We became quite adept at using our hands and our bodies to say what we meant.
Susanne Bacon: Goethe called his autobiography "Poetry and Truth", and very obviously in order to write an interesting autobiography, you have to tweak things sometimes. How is it with "A Long Way from Paris"? Which part is poetry, which truth?
E. C. Murray: I had an unusual advantage in writing A Long Way from Paris. I saved my journals from that period of life. When I was at the farm, I frequently wrote three times a day: early morning, out with the herd, and in the evening in front of the fire. When I decided to write this memoir twenty-five years later, I underlined all the most interesting sections of my journals; then, transcribed those paragraphs and shaped them into a narrative arc. Therefore, there is nothing that isn't true, although I did change the timing on a couple events. For example, Randy didn't arrive in the beginning for weeks, not days. However, since I didn't have anyone to talk to during those weeks, it would make boring reading if I dragged it out in the book.
I didn't include many, many thoughts and incidents. For example, I spent hours and hours reflecting on Jung and the nature of religions, and while some of that's in the book, my editor cut a lot. While on the farm, I read a great deal (not having any screens is a great bonus for a writer) so if A Long Way from Paris sounds poetic, it's because of my continuous reading.
Susanne Bacon: At the beginning of your book, you quote St. Augustine: "The World is a book, and those who do not travel read only one page." Would you say the same applies to writing?
E. C. Murray: When asked if travel is necessary for writing, I think of Emily Dickinson alone in her room above the graveyard. She did not travel. Reading is necessary for writing, and reading gives us a magic carpet taking us to other lands. That said, I notice those authors I most admire have traveled to the settings they write about. I think that there's nothing like touching, smelling, and hearing a place and interpreting that locale through your own personal filters.
I think all authors have their areas of expertise, the areas where they most excel. For example, writers equate Elmore Leonard with dialogue. My strength is writing about settings and I don't believe I could do well without actually visiting the place where I set my story.
You may have even further and totally different questions for E. C. Murray. The 6th Annual Lakewood Film, Arts, & Book (FAB) Festival takes place on September 28, 29, and 30, 2018 from noon to 9 pm at the Shirley McGavick Conference Center at Clover Park Technical College. The book/author section is open from noon to 6 pm. E. C. Murray will be signing her books on Saturday and Sunday. Please find further information at https://www.facebook.com/lakewoodfilmartsbooks/.