Submitted by Don Doman.
The play has come and gone. I waited a year and a half to see this musical teen version of the Edmond Rostand classic, Cyrano de Bergerac, that captured my imagination nearly sixty years ago. From the balcony scene, I love the lines between Roxanne and Cyrano who loved her: "Am I so far above you?" "So far, that if you let fall just one harsh word, I would be crushed."
Peg and I took two of our youngest granddaughters to see the musical. I don't think they really wanted to see it, but went out of family duty. Once they were in the second row and began looking over the program and seeing familiar names and faces they both perked up. Once the play got going they were captivated, as I knew they would be. We even stayed for the graduation of the members of Club TLT. Club TLT is a young actors program that attracts students who want to learn more about the theater. This production featured students from Bellarmine Preparatory, Curtis High School, and St. Patrick's Catholic School.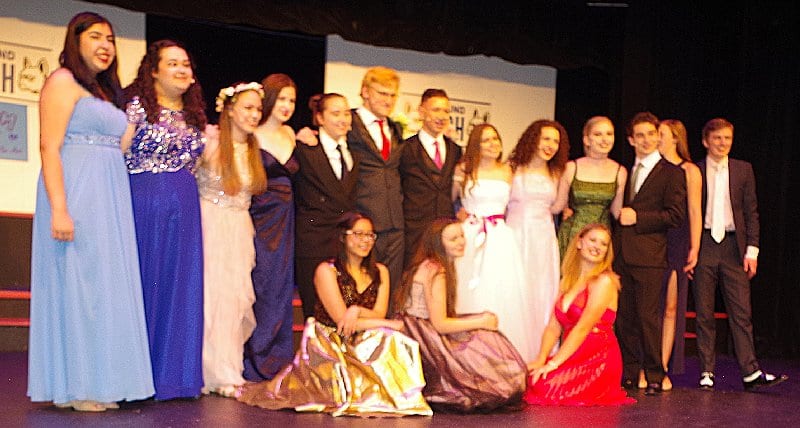 Tacoma Little Theatre along with Lakewood Playhouse and Tacoma Musical Playhouse provide a rich background for students as well as adults. Tacoma Musical Playhouse has both spring break classes as well as summer programs for young actors. Lakewood Playhouse has a wonderful summer youth theatre, too. A mother with her two children who sat directly in front of us, mentioned that her kids were asking about programs for themselves. One of the kids even did the splits for us like one of the actors on stage had done. The mom mentioned she couldn't afford classes and programs. I encouraged her to talk to the nearest theater and tell them of her circumstances. I know some organizations provide funds just for that reason.
Cyrano was a hit with the audience and our granddaughters as well. After clapping and singing along with nearly two dozen classic rock songs, the youngest granddaughter of the two asked me, "Have YOU even heard of any of those songs?" I was crushed . . . How old does she think we are?