Submitted by Phil Raschke.
The Lakewood Film, Art and Book committee has announced September 28, 29 and 30 (Fri, Sat, Sun) as the 2018 dates for the newly revamped event. Past events were known as the Asian Film Fest, but for 2018 the event has expanded into a full three-day action packed festival according to co-chairs Bob Lawrence and Phil Raschke. This year's Film selections will now have an International flavor to them and the number of films being shown has increased from five to eight. The Art exhibit is undergoing expansion and cash prizes for juried art have been increased.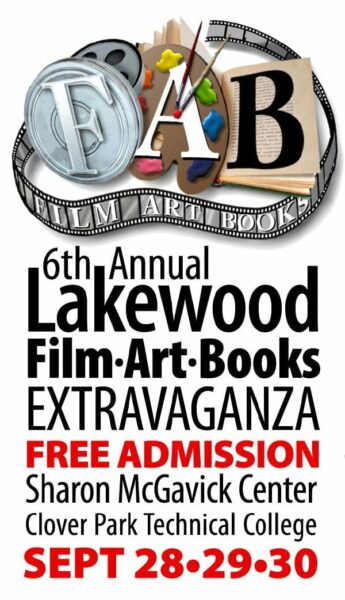 Also, Raschke said an entirely new element has been added to this year's event. This year, for the first time, the event combines Film and Art with a new Book event. Currently, authors from Lakewood, Tacoma and the Puget Sound area are being offered promotional space to display and sell their latest publications. Raschke said the book event "has taken off like a rocket with over three dozen authors" currently signed up to attend the festival.
This year's event also has a new location. The event will be held at the Sharon McGavick Conference Center on the campus of Clover Park Technical College, 4500 Steilacoom Blvd SW.
An important carryover from past events, however, is the price of admission. As in the past, the event will once again be offered FREE to the public.
More information will be released shortly. Updates will also be available at Facebook.

Plan now to attend as this year's event is going to be absolutely "FABulous".