I can predict the future. Within a week, the headline of this article "Social Media Marketing in Lakewood, Tacoma, and Seattle" will show up on the first page on a Google search if you do the search for that headline. If you use the quotations marks, it will probably dominate and be #1. This article is for people who would like to use social media to market their small business.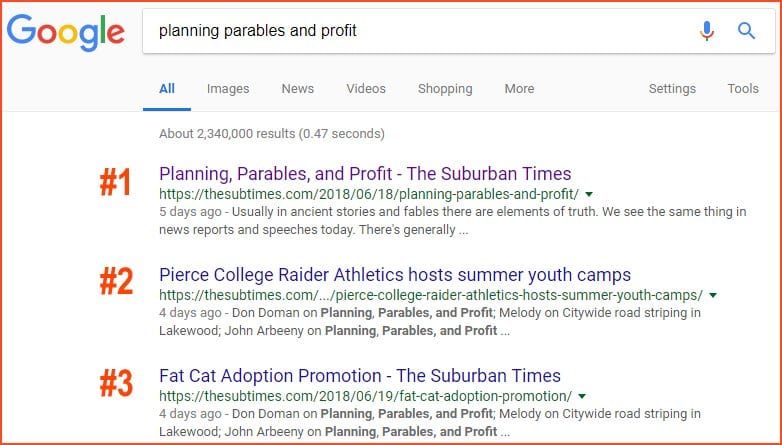 On the 18th of June, my article Planning, Parables, and Profit was published in The Suburban Times. Five days later, I captured the results of a Google search for Planning, Parables, and Profit.
Not only did the direct link to the article show up in the number one position, but since the article was mentioned on a different page and then again the following day, those two links show up as well in the #2 and #3 positions. This article was written Saturday morning (6/23/18).

Search engines deliver results based on the search terms you use. They can't read your mind . . . yet. To let search engines work for you, they need to know where your interests are. For example, if you are considering installing an air conditioning system in your home and don't know who to choose nor what the best systems are, you might search for "air conditioning systems." However, if you want to pinpoint what is available in your area, you should probably search for "air conditioning systems Tacoma." If you live in Lakewood, then you would search for "air conditioning systems Lakewood Washington" to set you apart from Lakewood, Colorado. If you are from Tacoma or Seattle . . . or Puyallup then those names are pretty clear to the search engines. If you have read some information about today's air conditioning you might search for "HVAC systems Tacoma." If you have heard of a firm that you think provides the service you you need, then you could search for "HVAC systems Tacoma Furnace Doctors."
Search engines like Google and Internet Explorer are wide ranging. If you use Facebook, Youtube, LinkedIn, etc, then be aware that those social media systems provide much more narrow information based first on their members. I preach to my clients about combining basic Search Engine Optimization (S.E.O. is the manipulation of website coding to enhance internet traffic) and the use of simple clues that can direct visitors to their websites or social media pages.
Here is an example of a search on Youtube. The search was for "Bright Water Early Learning Seattle."
The results were two videos about Bright Water Waldorf School in Seattle on Capitol Hill. If you didn't know the name of a particular school like Bright Water and didn't include it in the search, the results would be completely different. When new videos are uploaded on Youtube, the website asks for the title, description and keywords of the video. These pinpoint the secret to internet searches. Although not all social media and basic search engines have these requirements and don't always ask for that information, the use of title, description and keywords can work wonders. In other words if you don't find a way to include the information contained in a title, description, and keywords into the content of a page, post, or article; search engines will not find your information and will consequently not deliver your data to the multitudes.
What I suggest for social media marketing like foundational work on websites, is to concentrate on the words that strangers would use to find your services. Like Furnace Doctors and Bright Water Waldorf School, more people don't know names of businesses and institutions, than do know them. If you have a business in DuPont that provides sewing for soldiers, a good Facebook community page would be "Uniform Alterations Sewing Tailoring DuPont" rather than "Sister Suzi," which might be your business name.
As a community page you could offer comments about sewing as well as post information on your sewing business. Facebook gives you the opportunity to add a description about the page, where you can give details on location and basic content. Most other social media organizations allow you to enter similar information.
Remember, I can predict the future. Be sure to check out my forecast in this article. I love the internet, media, and especially social media because it reaches out to people this week and next.