Great music and lots of laughs. Can you ask for anything more in a musical comedy? The action takes place in the sixties with do-wopish, danceable songs by Alan Menken and Howard Ashman. Their partnership resulted in the words and music for The Little Mermaid (1989), as well as Beauty and the Beast (1991). Ashman died in 1991, but his music lives on with his songs included in Aladdin (1992).
Little Shop of Horrors makes fun of the B movies of film producer Roger Corman and makes a few relaxing hours fun. The People Eater might have been blood-thirsty, but for the most part swallowed his meals in one big gulp.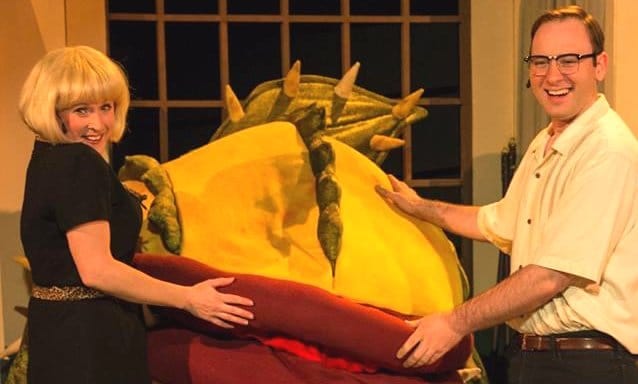 Most of the action involves Jennifer Redston as the sexy shop girl Audrey (very nice voice kept the same accent all the way through the play), her namesake Audrey II (Eric Clausell and James Wrede) and Kevin Spacey look-alike Niclas Olson as Seymour.
Popping up everywhere is a duo of winos who dance in the ensemble and stagger upright long enough to change the set for each scene. Also popping up was a trio chorus of dancing girls (TONI NICOLE BRIDGES (Crystal), BRITTANY GRIFFINS (Ronette) and JOELLE CRAFT (Chiffon) as "The Doo Wop Girls"). Their dress was classic and their dance moves characteristic of the times. I really liked how they popped up from behind the flower shop counter in one scene. I laughed in appreciation. Photo by Tim Johnston.
I loved the Jewish shop owner, Mr. Mushnik, played by Tim McFarlan. As the shop begins to make money based on Seymour's carnivorous plant Audrey II, Mushnik proposes that he adopt Seymour as his son. I loved that number and their dancing.
William Johnson as Orin the Dentist steals most of the show. The crowd loved him, I loved him, all my family loved him. The "laughing gas" inhaling, pain inflicting character just draws attention, chuckles, and belly laughs.
Actually, William played several characters, but his death scene was the most memorable. Director Chris Serface either let William go over the top or demanded it out of him, but either way . . . he deserved the applause and laughter he got with the final bows.
Order you tickets ASAP – tix4.centerstageticketing.com/sites/lakewood_washington/showdates.php?s_id=121