My dad was a Merchant Marine officer during World War II. He sailed on an oil tanker in the South Pacific. But his home port was in San Pedro, California. I was born immediately after the war and we moved from Nevada, Missouri to Tacoma, Washington. For some time he kept in ouch with his buddies, so when one settled down and moved to San Francisco, we drove there for a vacation in 1949 or 1950.
The trip to San Francisco was an eye-opener to my young eyes. It was a revelation that my father had friends, and they were a little wild. We visited Chinatown. This was my first taste of chop suey. I enjoyed it. My parents let their hair down and had a good time. My dad's buddy set off strings of fire crackers, which was exciting for me. I don't remember my parents ever visiting with this friend again. And I don't recall my father ever having another friend. My mom was more social and although she stayed a mid-west style cook (over-done and no spices), I remember her serving us Chun King Chinese TV Dinners a couple of times . . . and Chinese dinners from a package.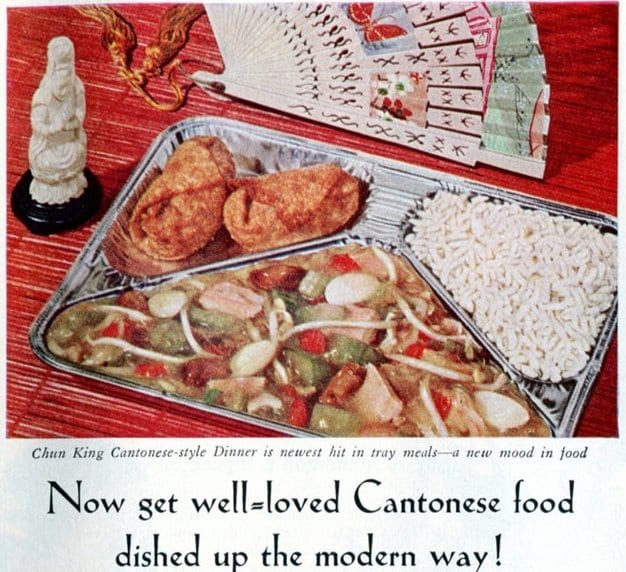 "Chun King was an American line of canned Chinese food products founded in the 1940s by Jeno Paulucci, who also developed Jeno's Pizza Rolls and frozen pizza, and the Michelina's brand of frozen food products, among many others." Wikipedia
My chop suey days are over. It was an American concoction of Chinese origin. When my kids were young Peg and I took Amtrak to San Francisco. We visited Chinatown and brought containers of Chinese food onto the train, which we ate on the way back north. Today Oriental foods are everywhere. In fact, there are more Chinese restaurants in America than Burger King, KFC, and McDonalds. . . combined. Today my wife Peggy and I appreciate Chinese, Vietnamese, Thai, Taiwanese, and Japanese foods.
I came across a Facebook TV show called Untold America and one of the episodes is called How Chop Suey Saved Chinatown. It's quite a story of change, adaptation, acceptance, and the American dream – facebook.com/UntoldAmericaShow/videos/1900502726639870/
On June 2nd, I'll be the emcee at the Chinese Reconciliation Foundation diner. It will be a fun event and I know the food will be excellent. Later this fall we will take a week's vacation and stay in downtown Vancouver, B.C. We'll be visiting their Chinatown as a reminder of what Tacoma lost when a Tacoma mob forced our Chinese people to leave Tacoma nearly a hundred and fifty years ago. We don't expect to see or taste chop suey.
For details of the upcoming event, please visit tacomachinesepark.org/community/events/annual-dinner/