There are several Indochine restaurants in the Tacoma Pierce County area. Relations run deep . . . and the food is uniformly good. We frequently order take-out. We are lucky enough to live within half a mile of the Indochine on North Pearl, just outside of Ruston. – indochinepearl.com/

We chose Indochine for a good meal and discussion. We've been working on a fundraiser for the Chinese Reconciliation Project Foundation, which will be held at the Ming Palace at 8736 South Hosmer in June. The four of us who met wanted to gather at some place closer and out of the late afternoon traffic on I-5. Three of us lived within several blocks and Executive Director Theresa Pan Hosley, lives just over a mile away. It was a relaxing meeting with one friend bringing her baby. I love low-key meetings, Theresa was funny and charming in her University of Washington sweatshirt.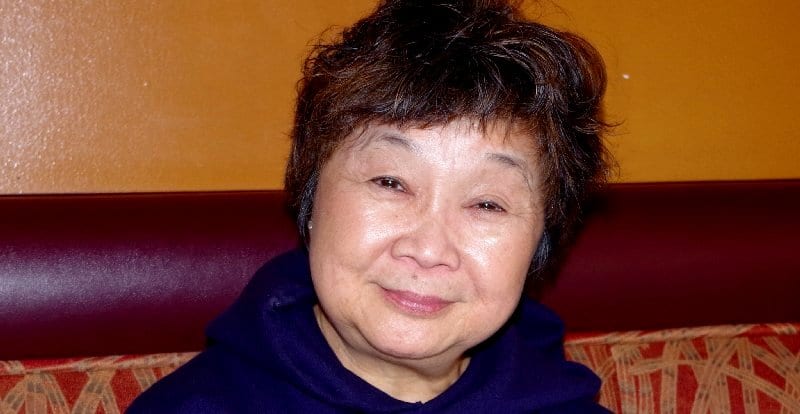 Normally, I order Pad Thai . . . I search the menu and consider other opportunities but in the end I choose Pad Thai. I broke the mold this time and had Honey Glazed Walnut Chicken – Chicken lightly battered and served in a crispy basket with honey glazed walnut. In addition to the chicken I ordered tofu. I really enjoyed the dish, but it looked ugly with the big chunks of coated tofu dominating the plate covered in the sauce. I enjoyed the entire dish, especially the crispy basket, but had to dig through the big chunks to get to the chicken and nest of noodles. My advice: order the Honey Glazed Walnut Chicken without the ugly tofu.
My wife Peg ordered Singapore noodles. This is a favorite of her's and some of our friends as well. Singapore noodles is a dish of stir-fried rice noodles with curry powder, vegetables, scrambled eggs and meat, usually chicken, pork, or prawns. Singapore noodles is offered as a special on the little table cards.
Our meeting was a little late, the baby spit up on the floor, and we had ask about the forgotten Singapore noodles, but the waitress was helpful and of course we enjoyed the food.
The most beautiful dish of the evening was ordered by Theresa. Spicy Basil Seafood comes with lots of vegetables and prawns, sea scallops, and calamari sautéed in a spicy basil sauce. The Spicy Basil Seafood was the hit of the evening. I held back, but this one plump scallop kept calling to me . . . I had to answer . . . you know I did.