SOTABOTS came to my attention when my wife Peg interviewed high school senior Addie Bjornson for a possible P.E.O scholarship. Peg loved her determination to become an engineer and the enthusiasm she had for robotics and her group whose mission is to change the way society views education through implementing an innovative approach to learning. Addie and her fellow students/friends/budding-engineers visited the Rotary Projects Committee of the Rotary Club of Tacoma asking for help. – thesubtimes.com/2018/03/16/riding-robots-and-sotabots-to-houston/
Rotary was already involved in the Science Olympiad (at Curtis High School), which we've assisted over the last three years, so stepping up to help SOTABOTS was not unusual. Chairman Jim Whitacre, his wife Kathy and my wife, Peg and I attended the SOTABOT auction luncheon. After seeing them in action and looking at their needs our committee accepted a SOTABOT project at our April Projects Committee meeting. We are putting together a mentoring team to offer advice on leadership, fundraising, photography, video, and marketing. We also approved $500 to help them compete in Portland for their district championship and a possible trip to Houston for the world championship competition. What is amazing about these students is their dedication to learning.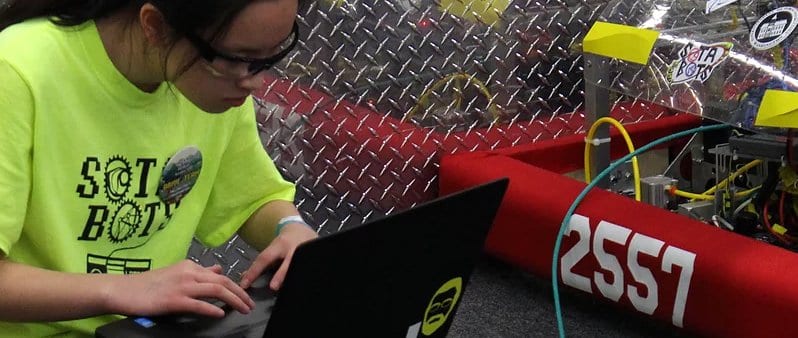 The SOTABOTs team was very successful! Here is the latest information from Assistant General Manager Milana D'Aniello:
"We have exciting news! This past week, the SOTAbots traveled to Portland, Oregon to compete with the top 64 out of 154 teams in the Pacific Northwest for our District Championships. After a long weekend of exciting matches, the SOTAbots ended qualification matches with a number one rank. Our alliance selections were brilliant. We won the PNW District Championships with the help of FRC team 2471, Mean Machine and team 1778, Chill Out, taking home our first Winner's blue banner since 2012!
In addition to stellar robot performance, we earned top honors by also winning the Regional Chairman's award, the most prestigious award in FIRST. This award is given for exemplary STEM outreach and for being a role model for other FIRST teams to emulate.
The SOTAbots victory at the Pacific Northwest Championship secured us a confident position for competing in the FIRST World Championship Competition in Houston later this month. Sacrificing our spring vacation was worth the effort!" You can read more information here – www.sotabots.com/
FIRST (For Inspiration and Recognition of Science and Technology) was founded in 1989 to inspire young people's interest and participation in science and technology. Win lose or draw, the SOTABOTS are having a great time as they share their enthusiasm for science and learning. Let's wish them the best!