I knew the Sapporo Steakhouse was opening up, but I didn't plan on eating there on their first day of operation. It just turned out that way. The Japanese Sushi & Hibachi restaurant has a few things to improve, but they have a good start. Sapporo is located in the Green Firs Shopping Center in University Place (coming soon to Lakewood, also). They took over the old Jade Palace space. – www.sapporosteakhouse.com

The old Chinese restaurant interior has been opened up and re-done. It's clean, modern, and colorful. There are different areas inside for sitting, which depend on what kind of meal you are looking for. My friend Jim and I didn't need to see the chef with knives flying and cutting up pieces of raw steak on the grill, so we opted just for table and chairs.

Jim ordered the Bento Shrimp Tempura, while I never turn down an opportunity to eat eel (unagi). We both started out with salad and miso soup. The salad is pretty mundane . . . lettuce and a thousand island type dressing. My wife, Peggy would have been annoyed. She would have really hated the miso soup, which was almost tepid. Peg likes her soup really hot. I like mine quite a bit warmer than what was delivered. With hot soup the flavors are brought forward. With cold soup . . . not so much.
The wait staff was interesting. Most wore Japanese style clothing of some sort and the women had makeup that at first glance gave them an Oriental look. Everyone was friendly. The room was a little cool, which meant that Jim and I both kept our coats on. While we sat and chatted, at the other end of the room there was a birthday celebration, which either began or ended with the pounding of a Japanese drum. In between there was loud shouting or talking. I'm not sure, which. Conversation at our table stopped, while all of this was going on, however. Our waitress was Melony. She was easy to talk to and answered our numerous questions about the food and dining.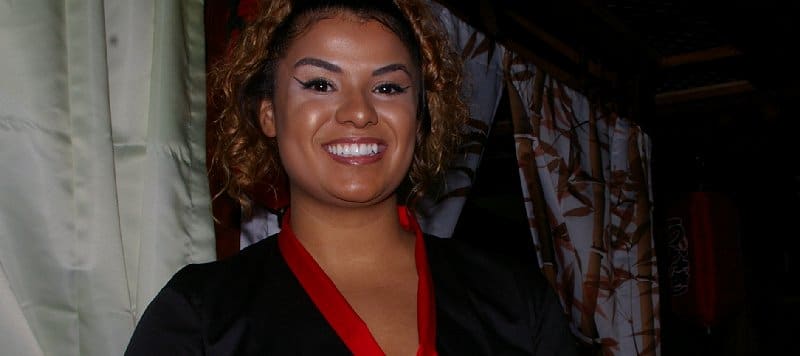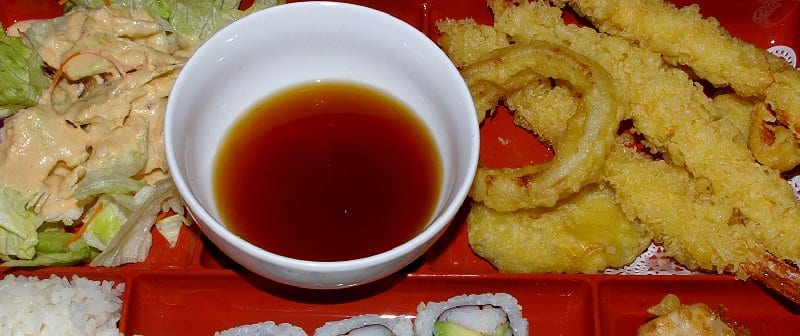 The bento had tempura shrimp, sweet potato, and onion. There was also rice, six pieces of California roll, two deep friend tempura dumplings, and more salad. Other than the shrimp being cold, the tempura shrimp dinner was excellent.
My Unagi Don was excellent. The eel sits on a bed of rice and is served with a BBQ/Sweet and Sour type of dressing covering it. Wikipedia explains: "Unadon is a dish originating in Japan. It consists of a donburi type large bowl filled with steamed white rice, and topped with fillets of eel grilled in a style known as kabayaki, similar to teriyaki." In addition to the eel I really enjoyed the little rounds of Japanese carrot. There was also a couple pieces of pickled ginger. I loved my order and my wife will love it, also. The general manager, Max Lee, talked to us on the way out. Melony had addressed our concerns with him while we ate. It was nice that he recognized there were problems. They were minor. We experienced excellent customer service. I shared that I would be returning with my wife. Peggy would really enjoy the unagi from Sapporo. I will enjoy it . . . possibly each time I visit.