What is it about puddles and raindrops, blue rubber boots with green frog designs, and yellow rain jackets with hoods not up that beg for a leap-flying, pigtails-scattering, peals-of-laughter-the-air-splitting, water-and-mud-splattering (them and us and the camera lens) kersploosh that is so beautifully, and importantly, a part of childhood?
And what if it's not?
What if, especially as we get just a bit older, the rain is just rain? Dreary, damp, dark, cold.
And filthy mud?
And no umbrella?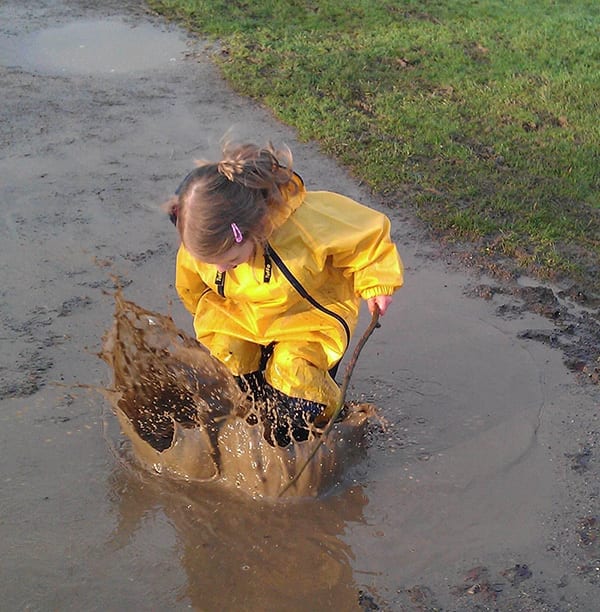 In a recent article I entitled "Dads and daughters, why they matter" – that looked briefly at the life of Stormy Daniels and sexual exploitation – one person commented most perceptively, powerfully and poignantly: "It is so hard for those looking in to see the toll it's taking on these women. They judge them sinners, trash, not even imagining they were once innocent young girls, with dreams."
Once.
Once upon a time.
But can their fairy-tale beginning become a story worth telling, one in which they live happily ever after?
It can.
The White Umbrella tells stories of survivors of sex exploitation, "as well as those who came alongside to help them to recovery.
"It describes the pain and the strength of these young women and those who held the 'white umbrella' of protection and purity over them on the road to restoration."
How significantly emblematic is the umbrella to the telling of their journey.
In China, with regards the umbrella, "the tradition is that it originated in standards and banners waving in the air, hence the use of the umbrella was often linked to high-ranking" chiefs and dignitaries.
The Aztec Empire used an umbrella as "an identifying marker that is the equivalent of a modern flag, carried by the army general. And the popes have traditionally bestowed the use of the umbraculum as a mark of honor upon specific persons and places."
In the Middle East, umbrellas were "reserved exclusively for the monarch (who was bald), and (were) never carried over any other person."
In Egypt, umbrellas were a mark of distinction.
In Greece, "the parasol was an indispensable adjunct to a lady of fashion."
In Rome, to be chosen "among maid-servants to bear it over their mistresses was a post of honor."
In Siam, "the umbrella was granted to only some of the subjects of the king."
No matter which culture and country claims the climate most conducive to having created the umbrella, one characteristic connects them all:
Ideally grasped by fathers, held aloft by husbands, the umbrella signifies honor to the one protected.
She thus becomes "a gracious woman," as Gill writes in his commentary, "as tenacious of her honor for chastity, modesty, wisdom, and conduct as terrible and violent men, cruel persecutors, are to amass riches and wealth."
There could hardly be a more fitting juxtaposition of contrasts than that just described immediately above given that which is being played out in headlines across this country.