World traveler Richard Dorsett saw a Ted Talk on the internet about the Foldscope, a fully functional microscope that you put together on your own using origami principles. He dreamed of being the Johnny Appleseed of Microbiology. He wanted to give away the microscope to young students to see what they could do with them. We're always looking for miracles. He sold the idea to me and I got backing from Rotary Club of Tacoma #8 to purchase one hundred of them. Richard ordered the Foldscopes and booked a trip to Laos, Cambodia, and Thailand. As a fellow member and past president of the 8th Rotary Club in the world, I connected with Rotary across the Pacific.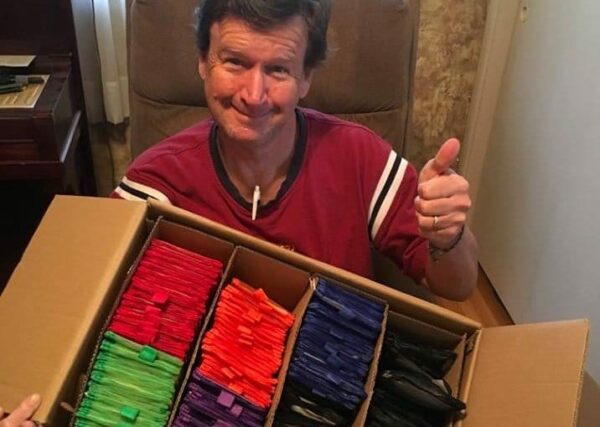 We didn't know what to expect or when to expect them. I found a complete Foldscope on eBay and bought it, so we could atleast have one to try out. We figured that the un-constructed Foldscope probably was printed on one sheet of paper. The learning curve of shipping and construction was steep. The Foldscopes arrived in a large box. Each Foldscope comes in a little zipper purse. There were also twenty-five instructor purses. We saw tweezers and tiny scissors . . . which worried us about airline security measures.

As we looked at the materials we began to worry about the fabrication. Richard took the Foldscope I bought and took it apart and put it back together several times. Next, he tackled one from tearing out of the printed sheet through folding construction until he had done it several times and then showed his wife and finally he called our buddy Denny Flannigan to start from scratch. Richard explained what to do as Denny punched out and folded listening to Richard as I shot photos of the various steps.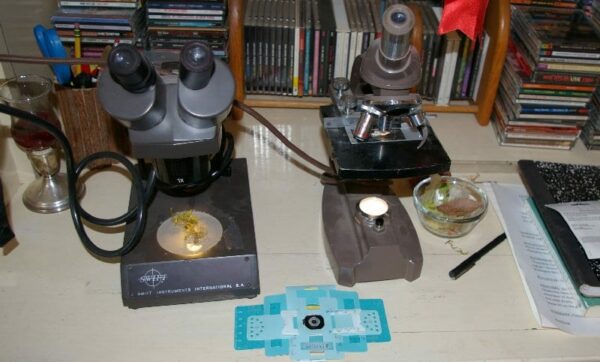 Most microscopes are big, bulky, heavy, and expensive. Plus, shipping is really expensive. It's hard to imagine that a paper microscope can compete side by side with more standard examples, but they do. The Foldscope certainly won't replace laboratory microscopes, but for field testing of water and diseases they stand up well.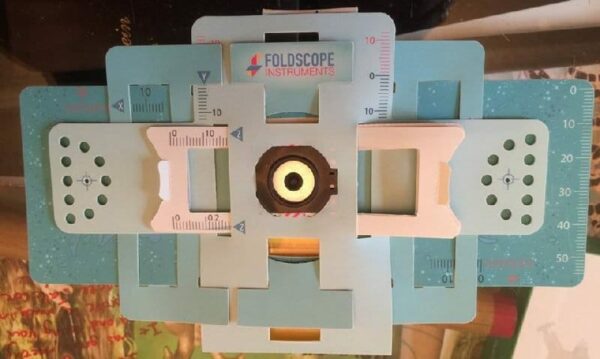 The pocket fitting Foldscope even has features other more expensive microscopes don't. For example, with a few minor adjustments cellphones can easily take photos of what the Foldscope sees for sending information via either phone lines or internet. Also, by holding the Foldscope and shining a bright light through the lens, it projects images onto walls or screens.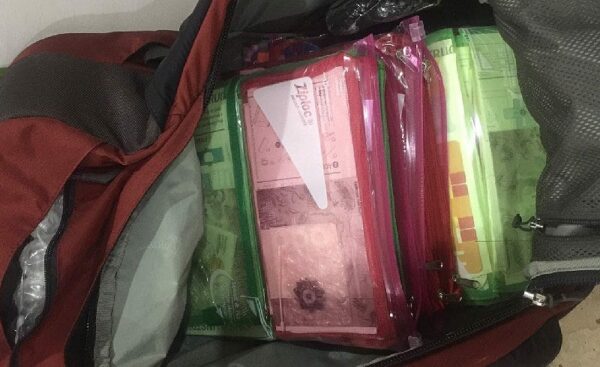 It took Richard a considerable time packing and repacking, but finally he was able to get the Foldscopes into his backpack, without damaging any sheets. Next time, we will be prepared.

The first stop for Richard and the Foldscopes will be Vientiane, Laos. He can hardly wait to meet with fellow travelers, teachers, Rotarians, and especially students. Please, read and share Richard's stories and adventures in the Suburban Times. Feel free to make comments and ask questions as well.