The Market Place Grille is located about forty feet away from Anthony's at the far end of the harbor of Gig Harbor. This means you get the same fantastic view of the harbor for a little less on your food bill. Carlene greets you while Richard does the cooking. Carlene is funny and friendly. The restaurant is narrow with only room enough of six to eight people. The building is divided by a hallway. The Market Place Grille can accommodate more people by opening the other side. The restaurant area looks down on a small deck and then out and down the entire harbor. It always has a great view, no matter what time of day you dine or what the weather is doing.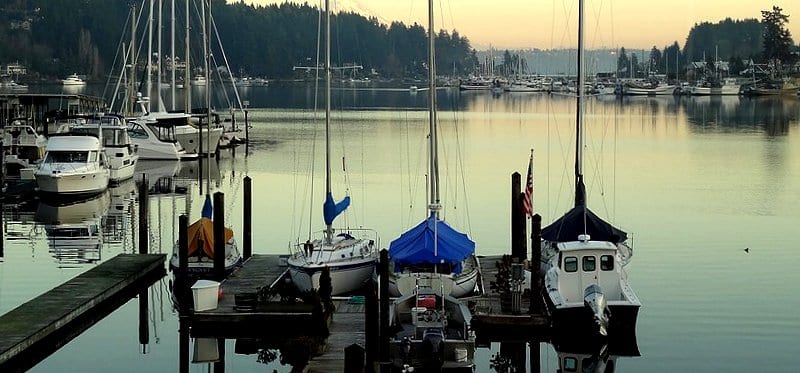 I ordered the salmon spread as an appetizer. It was served with eight slices of baguette that were nicely toasted. They had a little crunch and just the right touch of chewy. The salmon spread was a nice combination of salmon and cream cheese. The cream cheese had lots of salmon to see and taste and was still easily spreadable.
I also ordered the coconut prawns with a sweet chili sauce. There were five on separate skewers. They had lots of crunch. They were perhaps a little over-cooked . . . perhaps. They were crusty with the coconut and the sauce was perfect. The slaw was just a dab . . . I would have liked a bit more and a little sweeter.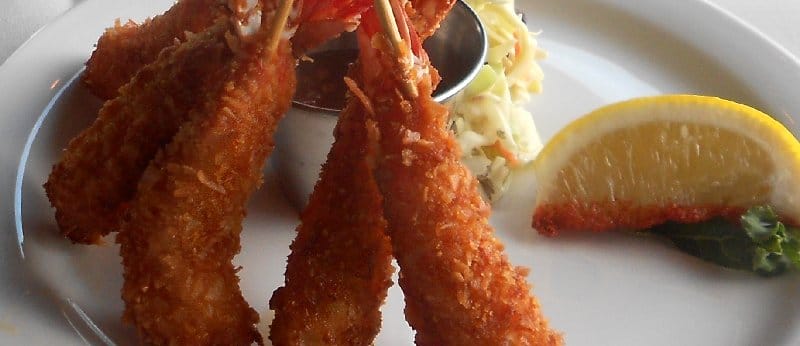 A slight complaint was that the food needed salt. This came from Peg who cuts down on salt as much as she can. I like a little more lemon juice than Peg, so it didn't phase me, but then I didn't have vegetables and rice.
Peg had the encrusted scallops with rice, asparagus, broccoli, and peppers. The scallops were good sized and looked yummy just sitting on the plate. Peg gave me two. I cut each one in half, added lemon juice and then dipped them in a tarter/pepper sauce that I enjoyed. They looked perfect. I believe the rice was Basmati.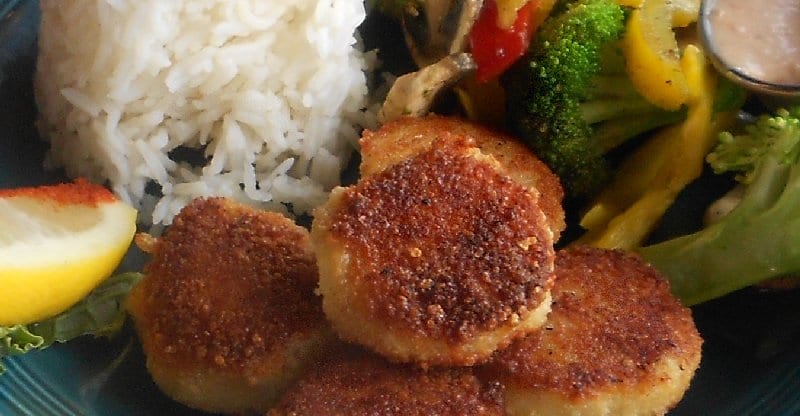 With a Diet Coke for me, the bill came to $44 and change. Something similar at Anthony's would have run $10 to $15 more. I'm just comparing, but I am not saying go to Market Place Grille instead. I like both places. We enjoyed the food, the view, and the conversation. We would go there again. – http://marketplacegrille.joggerspark.info/