It all started with a hobby that needed to be shared. Today it's a business in Lakewood that is brimming with fine materials, infinite ideas, and the happy magic that made everything fall in place. The Sock Peddlers have opened their colorful store in the Colonial Center at Motor Avenue only a couple of months ago, but amongst knitters in the South Sound region they have been something of a small legend for years already.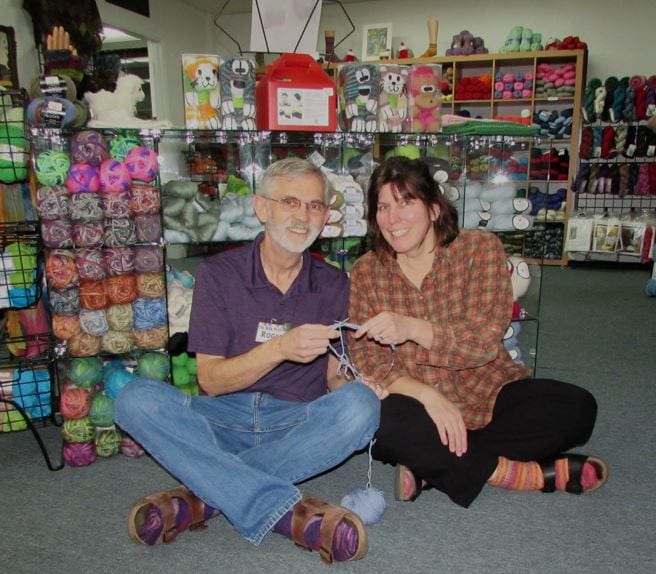 About four years ago, Kathy Johansen, teacher at the Cherrydale School in Steilacoom, offered to bridge the winter break of the local historical museum's Kids Club by introducing children to knitting. From the very first event, her Knitting Club was overcrowded with kids from four to ten (and more than a few curious parents) and had to be divided into two sessions. Though Kathy had a team of helpers, there never seemed to be enough of them – so her husband Roger (meanwhile retired from a banking career) took up the needles and started assisting the little hands in getting the knack of yarn and needles. Ever since, the knitting fever has been spreading successfully.
Another turning point arrived, when Roger and Kathy acquired an old circular knitting machine over a hundred years old. They started, literally, cranking out socks by the dozen. "We began to offer knitting parties on demand where people could knit their own socks or accessories," Kathy says.
The Sock Peddlers' new home at the Colonial Center and the machine that kicked off the business.
Last January, the extraordinary side-by-side couple had decided to entice even more people – they booked a space at the Tacoma Holiday Food and Gift Festival for October. They started looking into booth equipment and crafted their own presentation furniture – some of that the quaintest bicycle-like contraptions, as Roger and Kathy are passionate hobby-bicyclists also. "By that time, we had already founded the company The Sock Peddlers LLC," Roger says. "Last July, we rented a studio on the second floor of the Clover Park Shops in Lakewood as an alternative option for customers who didn't want to book a knitting party in their homes."
When, shortly after, popular Yorkshire Yarn at the Colonial Center announced that they were closing business, their customers' mourning reached the Johansens' ears. But above all their hearts. "There was going to be a huge gap," Kathy observes, "and we were ready to fill it." By the end of August, they had moved into their new store location. Their shelves quickly filled with all German high-end sock yarns, but also with original Shetland yarns, and lots of stunning American products, amongst them hand-dyed specialties from Jorstad Creek Yarns in Olympia. With the beginning sports season, Seattle team colors blue and green have accumulated in another spot. And for Christmas gifts, the cutest shawl kits and some cool hat kits are waiting for knitters. Stunning lace knitting, Fair Isle patterns, and complex modern multi-yarn creations show that Kathy and Roger have way more to offer than "just socks". Needless to say, crocheters are more than welcome at this friendly yarn shop, too.
Extraordinary shop furnishing, colorful yarns, and knitting ideas galore are creating an inspiring ambience for customers.
Currently, author Sheila Joynes teaches classes at The Sock Peddlers and sells her inspiring books on Fair Isle. Part-time staffer Maddie Wallace shares her knowledge on knitting, spinning, and dyeing yarns. On November 11, The Sock Peddlers will host an event that is all about the latest yarns and notions by Skacel. They will be demonstrating the long awaited newest knitting needles Flexi Flips. And in between circular knitting classes, everybody is welcome to hop by shop or knit and sit.
"It is simply amazing how everything happened just when we needed it to happen," Kathy and Roger agree about their business, that got its latest boost during said Tacoma Fair when TV channel King5 came by their booth and interviewed the enterprising couple. If you have missed the airing (http://www.king5.com/news/local/gift-ideas-couple-creates-personalized-socks-and-hats/485015630 ), there is also the website thesockpeddlers.com. Or even better – visit the store (6122 Motor Ave., Lakewood, WA 98499) and check out the latest offers and ideas! Promise: You'll be enmeshed!