Submitted by Don Doman
The annual Chinese Reconciliation Project Foundation dinner was a huge success in both monies raised and people taking part in the festivities. Initial figures show two hundred attendees and nearly twice the revenue of previous events.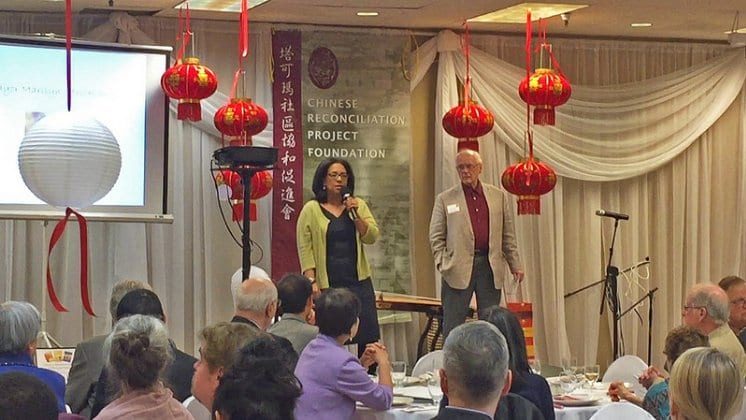 The May 6th dinner held at the Ming Palace featured excellent Cantonese courses served family style with appetizers of BBQ pork and egg rolls. Thoughtful entertainment was provided by half a dozen Lincoln High Students who traveled to China in 2016 at the invitation of Chinese President Xi Jinping. The students sat among the other guests and joined in telling stories and memories and sampling great tasting food.
A short preview of the KBTC documentary "Of Race and Reconciliation" was shown as well. KBTC will be broadcasting the production on May 25th at 8:00 p.m. The documentary is about Tacoma's expulsion of our Chinese residents in 1885 and the building of the Chinese Reconciliation Park along Tacoma's Schuster Parkway.
The dinner was well received and gave off the feeling of the perfect party. Board President Theresa Pan-Hosley, Greater Tacoma Peace Prize 2016 Laureate said, "Many people didn't want to leave. Everyone was talking, sharing, and laughing."
For more information about the Chinese Reconciliation Project Foundation, please visit the website: http://www.tacomachinesepark.org