Reality and fiction sometimes seem to overlay each other in strange ways. When Lakewood-based author Susanne Bacon started writing Telling Truths, her third Puget Sound romance based on the fictitious small-town of Wycliff, she envisaged what might happen if an oil refinery were built in a quaint Victorian tourist destination. "All the more coincidental it was that a few weeks after I had laid down my plot there was that big discussion over a gas plant in the Tacoma tide flats," Bacon says. "I saw a lot of parallels to what I had already written, though for entertainment's sake I kept it a lot simpler and compressed."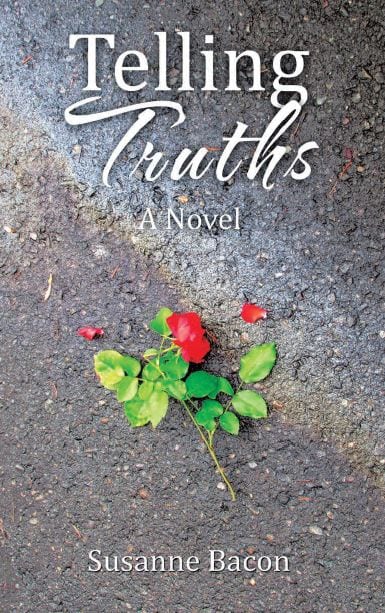 Her protagonist this time is an environmentalist who has to choose between her conscience and her job in town hall. Naturally, she will have to come up with some idea how to make a living when she chooses her conscience. It doesn't make it easier that the man she secretly loves is of a different mindset. "It was pretty tough to find a way to let those two characters discuss things openly, yet let affection shine through," Bacon ponders the writing process. "In the end, we all have only recently experienced how much differences of opinion can rip apart friends and partners. Going black and white is way easier than trying a diplomatic path – even when it is only fiction."
A parallel story-line is about the illegal dumping of hazardous waste near Wycliff, which a journalist follows up. Somebody who belongs to the town's past doesn't like to be in the newspaper's spotlight and is ready to put everything on one card. As the two plots intertwine, readers may be sure to re-meet well-liked characters from Susanne Bacon's first two Puget Sound romances, Delicate Dreams (2015) and Wordless Wishes (2016). They will be involved in quite a lot of drama in this new Wycliff tale of ecology against economy – or should these two be reconcilable after all?
Author Susanne Bacon's latest Wycliff novel has been published only recently. Photo by Laci Anna Duer.
"Sometimes my characters commit twists that only they can disentangle," Bacon says with a chuckle. "I lay down the outline, but within these limits I let them pretty much live as they want. As long as they create the ending I planned for." Even the real people from the Steilacoom/Lakewood area the author writes into her novels for the asking don't know where their scenes come in until reading the book.
The most rewarding part of writing is her readers' response, Susanne Bacon admits. "There is nothing better than to hear that people expect to run into my characters or when they tell me that they'd love to visit Wycliff if only it were a real place." Telling Truths is available as an AuthorHouse soft cover edition (338 pages), online via AuthorHouse book store, Amazon, Barnes & Noble and at any local bookstore (ISBN978-1-5246-5630-0, $ 20.99). There is also an e-book version (ISBN 978-1-5246-5629-4, $ 3.99).