It was not where she'd fallen but where she'd taken refuge.
Huddled there in the shadows on yet another grey and cold December morning, she had gathered close around what appeared to be her few possessions: a sleeping bag, a backpack and various odds and ends of things indistinguishable what with the little amount of early morning light that reached her dark corner of the stairwell.
With dark circles etched beneath her eyes, her haggard face was barely visible below long uncombed and unkempt hair.
"Do you know what all the screaming was about? I received a phone call a little bit ago."
"He left."
Whatever altercation they had had, and whomever it was with, it had aroused the neighbors hence the voice message to come do something about it.
But what to do? "He" was gone. Hence the screaming was no more – at least until perhaps they meet again – and there my responsibility ended.
Not.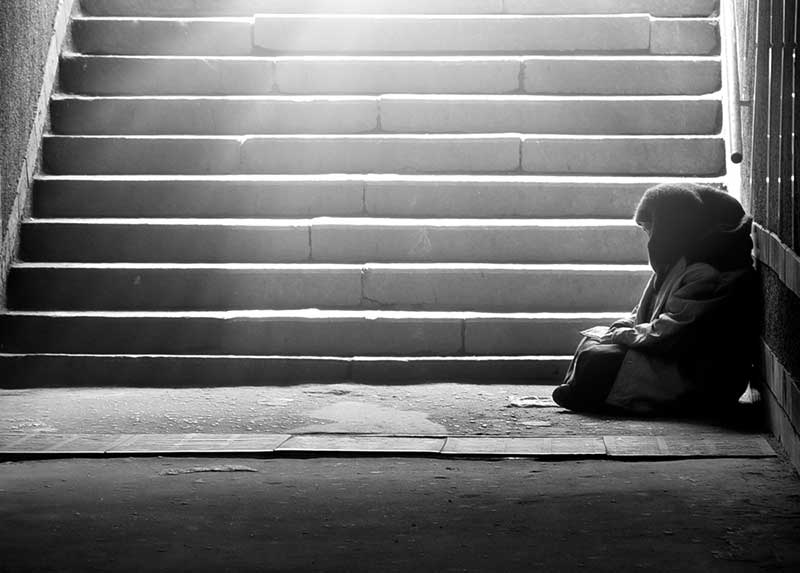 Reading a proverb a day is good for the soul and ironically on this very morning as I cradled in my cold hands a hot cup of coffee and watched her on the monitor stir about gathering her things – and lighting a cigarette – today's read, 'Turn not away from one in need for to do so is one day to be in great distress yourself.'
But what did she need?
What she needed, as it turned out at least according to her when she poked her head in the door and asked, was a big, black plastic garbage bag for her things. That I supplied and presently she ambled away, a pack on her back, the bag over her shoulder grasped in one hand and a cigarette clutched in the other.
Of all seasons of the year it's this one when the needs of others, as sure as sleigh bells – and cash registers – ring, can weigh on our conscience like an embarrassing over-burdened Santa's sack of stuff spread out under our festively decorated Christmas tree – the fire in the hearth snap-crackling happily nearby – while the homeless seek shelter under a tree of their own.
From cheerful bell-ringers to cardboard sign-holders, from dependable charities to darkened stairwells, we see the faces and hear the stories and, as we rush about, pause momentarily to consider what to do.
We feel we should do something but what is that something we should do?
The Lakewood City Council's Study Session this past November 9th consisted of "an entry-level primer" on homelessness. Key among the presenters was the Rescue Mission with a PowerPoint study entitled, "What if we could address the causes of homelessness and not just the systems?" Like the warmth of a fireside was the Mission's emphasis away from "viewing homelessness as simply a housing crisis" and instead promoting a holistic relational structure wherein those in need are paired with those who enable – as in empowerment, not as in making dependent.
Among the books for recommended reading was one entitled "When Helping Hurts: How to alleviate poverty without hurting the poor . . . and yourself."
An excerpt:
"Simply giving people money is treating the symptoms rather than the underlying disease and will enable him to continue with his lack of self-discipline (in which case) the gift of money does more harm than good, and it would be better not to do anything at all than to give this handout. Instead, a better – and far more costly – solution would be to develop a relationship with this person, a relationship that says, 'We are here to walk with you and to help you use your gifts and abilities to avoid being in this situation in the future. Let us into your life and let us work with you to determine the reason you are in this predicament" (p.55).
That's the start, according to authors Steve Corbett and Brian Fikkert, of what likely will be years of investment in this person with lots of ups and downs.
But from the darkness of the bottom of a stairwell, it is the only sure way – life-changing way – up.