Of course you can draw! Who says so? Artist Mark Ryan, that's who!
Mark Ryan
A free, fun art event will jump-start Dupont's Hudson Bay Heritage Days when would be and professional artists join forces to create sketches  historic and familiar spots in Sketch Where You Live Day featuring artist Mark Ryan. Mark is the artist who created the whimsical historical drawings for the upcoming How The West Was Fun Heritage Bus Tour (August 15), part of the Hudson Bay Heritage Days weekend (August 14-16.)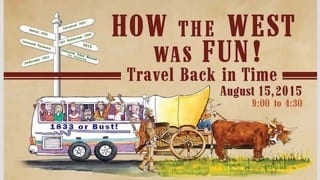 On August 1 at 11:00, Ryan will sign prints and posters at the DuPont Public Library. These prints of the Heritage Bus Tour destinations will be available for a  free will donation which will be divided among the five historical museums taking part in the tour. (Steilacoom Tribal Center, DuPont, Old Fort Steilacoom,  Steilacoom, and Lakewood).  The sketches are unique because they include not only the historic location, but Mark's handwritten thoughts about sketching each one.  He will talk about how to draw an effective  sketch."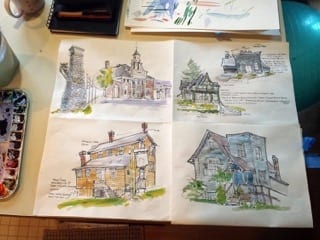 Upon conclusion of the signing, at 12:00, everyone is invited to join Mark Ryan, guest artist Marjorie Sebesta, and other artists as they encourage participants to sketch DuPont scenes, indoor and outdoor. The event, sponsored by DuPont Tourism, is free and sketching materials will be supplied.
Reservations are not required but it would help to know how many to expect.  If you plan to join us, let us know at 153-582-4565 or email Dorothy@itsnevertoolate.com
No prizes will be awarded because all participants will be considered winners, but sketches will be displayed at the DuPont Public Library. Sketching materials supplied! No prizes will be awarded because everyone who takes part will be considered a winner.  However, participant sketches will be displayed in the DuPont Branch of Pierce County Library.  Hudson Bay Heritage Days From August 14 – 16  includes a Golf Tournament on August 14 and on August 15,   the How The West Was Fun Heritage Bus Tour  visiting the locations where Washington with presentations at each stops, including a Historic Themed luncheon presented by McNamaras Pub and Eatery and a presentation on Washington's folk music by Music Historian Tony Saletan.
Hudson Bay Heritage Days end on August 16 with a Salmon Barbecue and a variety of free historic presentations including re-enactors, Buffalo Soldiers, a Volksmarch and a Vintage Quilt Show and lots more.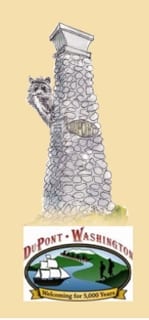 For information about the Sketch Where You Live event, and the Heritage Bus tour, Call 1-800-548-9264 or email Dorothy@itsnevertoolate.com.  Tour tickets available from http://www.brownpapertickets.com