We love our history in Pierce County and there's plenty to love . In fact, if the chair you're sitting in is in Western Pierce County, there's a good chance you're right at one of the spots where Washington Territory began.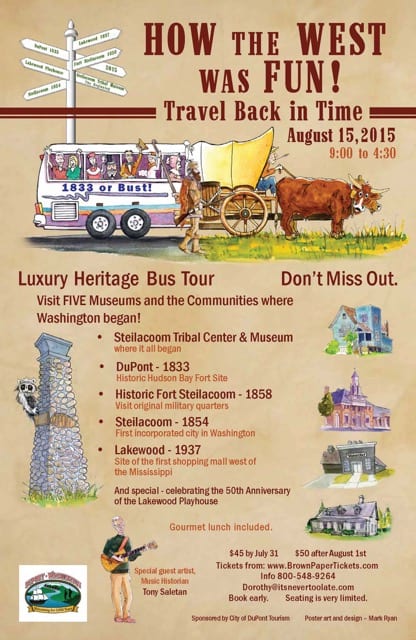 If you love history but you're not too crazy about driving around to look at it, tickets are on sale for the luxury b.o.b. (bathroom on board) bus tour which will take 50 fortunate history enthusiasts to enjoy a form of time travel to see for themselves How The West Was Fun. Tickets are very limited. The August 15 tour will visit museums in the five communities where Washington Territory started. Included are: The Nisqually Tribal Museum where it all began, DuPont where the first Hudson Bay outpost on Puget Sound launched the beginning of commerce in the brand new land (and golf, too most likely ), Old Fort Steilacoom as it was in 1849 when it was the home of the United States army commissioned to keep order and advance the interests of the government in the new territory. This is also the location of the start of the Old Military Road, parts of which are still in use today. The tour will visit the Steilacoom Museum in the first incorporated town in the territory, and Lakewood History Museum, with a special nod to the Lakewood Playhouse which is celebrating its 50th anniversary. This unique tour, created and sponsored by City of DuPont Tourism is a non profit event to benefit the museums involved. There will be special programs at each stop.
The guest artist at the heritage themed lunch in DuPont will be renowned folk music historian, Tony Saletan. Saletan is the man who taught his friend, Pete Seeger (and the rest of the world) to sing Michael Row the Boat Ashore and Kum Bah Ya after he rediscovered this early American music which has become a summer camp standby.
The tour begins at 9:00 at the Lakewood Playhouse in Lakewood Towne Center and ends there at 4:30 in the afternoon in the same place. The purpose of the tour is awareness and benefit of the five museums.
Get on the bus by ordering tickets directly at only $45– as long as seats last– by sending a check made for $45 made out to DuPont Historical Society, Send to Heritage Bus Tour, PO Box 881, DuPont WA, 98327. (Attention Dorothy Wilhelm).
Tickets will go to $50 on August 1. Tickets are also available through www.brownpapertickets. Information at www.itsnevertoolate.com or 253-582-4565.