"The party's over.  Now off to the jungle," declares Puyallup wildlife artist Becci Crowe as she plans her 13th trip to the African continent.  This one is special even for Crowe who is a Signature Member of Artists for Conservation. On this trip, Crowe will join famed primatologist and conservationist Dr. Jane Goodall, at the Tchimpounga Chimpanzee Sanctuary in the Republic of Congo.
The Sanctuary is home to more than 150 chimpanzees, many of whom are orphan victims of the illegal commercial bush meat trade.  Crowe and Goodall will be staying on the Sanctuary compound and, conditions permitting, participating in the transfer of an orphan chimpanzee to a pristine island home. "We can make a difference  – one animal at a time. It's taking that first step that's crucial" adds Crowe.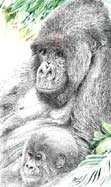 Crowe had the honor of attending Jane Goodall's 80th birthday celebration when Dr. Goodall put out an appeal to raise funds to move more than 100 chimpanzees to three pristine islands. Crowe will be joining Dr. Goodall as she returns to the sanctuary for the first time to see her birthday wish realized.
Following her return from the Congo, Crowe will share her adventurous journey through her art and presentations. She takes pictures and does some sketching on site, but it's not until she returns to her Puyallup studio that she renders breathtaking paintings in the painstaking pointillism technique.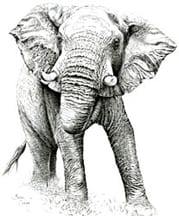 Included with this story are "Attitude" her portrait of an elephant whose foot stomping rage can create seismic waves felt 20 miles away. Also included is "Unforgettable." one of Becci Crowe's portraits of mountain gorillas, who share 96% of their genes with humans. "Little did I know when I first sat down in my art studio it was the beginning of a life beyond anything I could have imagined…and now off to the Congo and Jane Goodall!"
For more information about Becci Crowe visit her website at www.Becci.com. Watch her TEDx talk taped live at the Theatre on the Square in Tacoma at http://youtu.be/F-CX68sjEDo.