Going as a clay pot this Halloween?
Probably not. How ordinary after all. Commonplace. Seen one clay pot, seen 'em all. But a clay pot disguised – and distinguished – as something special, valuable, coated say with a thin veneer of silver, now that's sayin' somethin'!
Or is it?
"Warm professions," reads an ancient proverb, "can no more give value to insincerity than silver coating to rude earthenware."
Being what you're not, saying something – anything – for example to get elected; sacrificing principle even to that end, it's all so ironic that Halloween's deceptions and political elections come back-to-back every year, kind of like a horror show and its sequel.
From pot-laced treats to half-baked truths, from the newest lottery that hides greed and desperation to using earmarked money for purposes other than promised, this time of year is not just trick-or-treating to get candy, such sleight-of-hand is symptomatic of our culture.
It's what Joseph W. Cotchett calls "The Ethics Gap," in his book by that title. With Stephen P. Pizzo, Cotchett says ours is a "casino society," in which ethics have been eroded in "our professions, business and government."
It's "the official lies" from which must be rescued 'objectivity' by "calling power to account" as editor John Pilger writes in "Tell Me No Lies – Investigative Journalism That Changed the World."
It's what got J. Paul Getty in trouble.
In Getty's catalogue of its museum pieces there's a notation alongside a picture of a statue the once excited curators had purchased for just shy of $10M. That notation, that asterisk, is but two words: "modern forgery." At the time Getty was "a young museum, eager to build a world-class collection, and (this statue was) such an extraordinary find that its experts were blinded to their instincts," writes Malcolm Gladwell in his book "Blink." Getty so "desperately wanted the statue to be real" they declared it was. But, upon further review, turns out it wasn't.
Therein likely lays the most telling means by which to distinguish truth from error, fact from fiction, reality from falsehood, children from goblins, and statesmen from politicians.
Most certainly the distinguishing factor has nothing at all to do with appearance. The beautiful people displayed on Hollywood's silver screen where outstanding acting is accorded an Oscar are, after all, just actors – pretending to be something they're not.
Nor is veracity determined by capacity, although you'd like to think someone with incumbency has the edge in an election. We need not look far however to find incumbents who are actually more of an encumbrance.
So also, truth be told, neither position, nor pontification, nor promises, nor pleas carry much weight any more than the multiple fliers advocating whatever platform in your mailbox serve any real purpose.
Then how in the name of all that's just and honest and right are we supposed to discover whether we're being tricked or treated this, or any, time of year?
Here's how.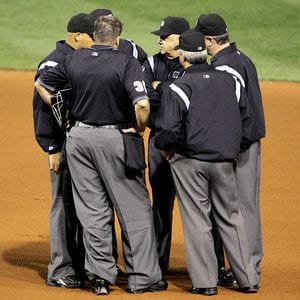 What was perhaps the biggest defensive play, the highlight of the highlight reel, the play of all game-saving plays of Game 7 of the just completed World Series?
Sure magnificent Madison Bumgarner was brilliant – magnificent even. The Giant's ace won, and most certainly earned, MVP.
And for drama, there was Kansas City's last hope Alex Gordon who, with two outs in the bottom of the ninth, laced a liner to left center, the ball skipping by outfielder Gregor Blanco and rolling all the way to the wall allowing but 90 feet separating the Royals from a tie score.
Certainly it takes a team to triumph and all efforts contribute – and mistakes detract – from the ultimate outcome. But there is always one outstanding aha-moment, a 'that- was-it' highlight that defines – and determines – destiny.
The youngest member of the Giants' Game 7 lineup was Joe Panik – a great name for the 23-year old who didn't: panic. A rookie second baseman, Panik snared Eric Hosmer's hot grounder and, from his knees, flipped the ball with his glove to shortstop Brandon Crawford who relayed the throw to first where Hosmer was sliding in a desperate head-first dive.
Hosmer was safe. Then he was out. The first replay reversal in World Series history, in extreme slow motion, from multiple angles, consuming interminable minutes, snuffed out what might have been.
And that's it. Right there. Separating frauds, fakes and facsimiles from the authentic, the accurate, the unadulterated and the unalloyed is to review the ruling on the field.
Go slow. Check from all possible angles. All may not be as it appears. The truth is behind the façade.