"Lakewood looks to make good first impression with new entrance." I've a suggestion.
And it not only meets the standards of the current one (of four) "recommended for council approval" – bold lettering, back-lit at night – but this – consider it a write-in vote – nomination for Lakewood's new welcome mat exceeds the purpose and potential in several ways: visual impact; economic revitalization; underwritten construction costs and maintenance in perpetuity.
Those "tasked with finding the money to build it," need not look far.
No longer "not-spots plopped among strip malls" – as Monica Yant Kinney wrote of similar such establishments (Philly.com News, March 7, 2010) for which such a sign would advertise, enticing high-speed travelers on I-5 currently bypassing Lakewood for gambling venues elsewhere to join local low rollers – Lakewood's casinos would finally realize their dream of preferred destination status.
City officials after all "say (or said – August 5, 2002) they (casinos) can be a terrific source of tax revenue and hope (or at least at one time hoped) casinos will act as economic engines to the neighboring areas along Interstate 5."
"We do get a nice chunk of change from them (casinos), and they are good neighbors very supportive of the community," said a then-Lakewood City Councilwoman (Tacoma News Tribune, July 22, 2003, D1).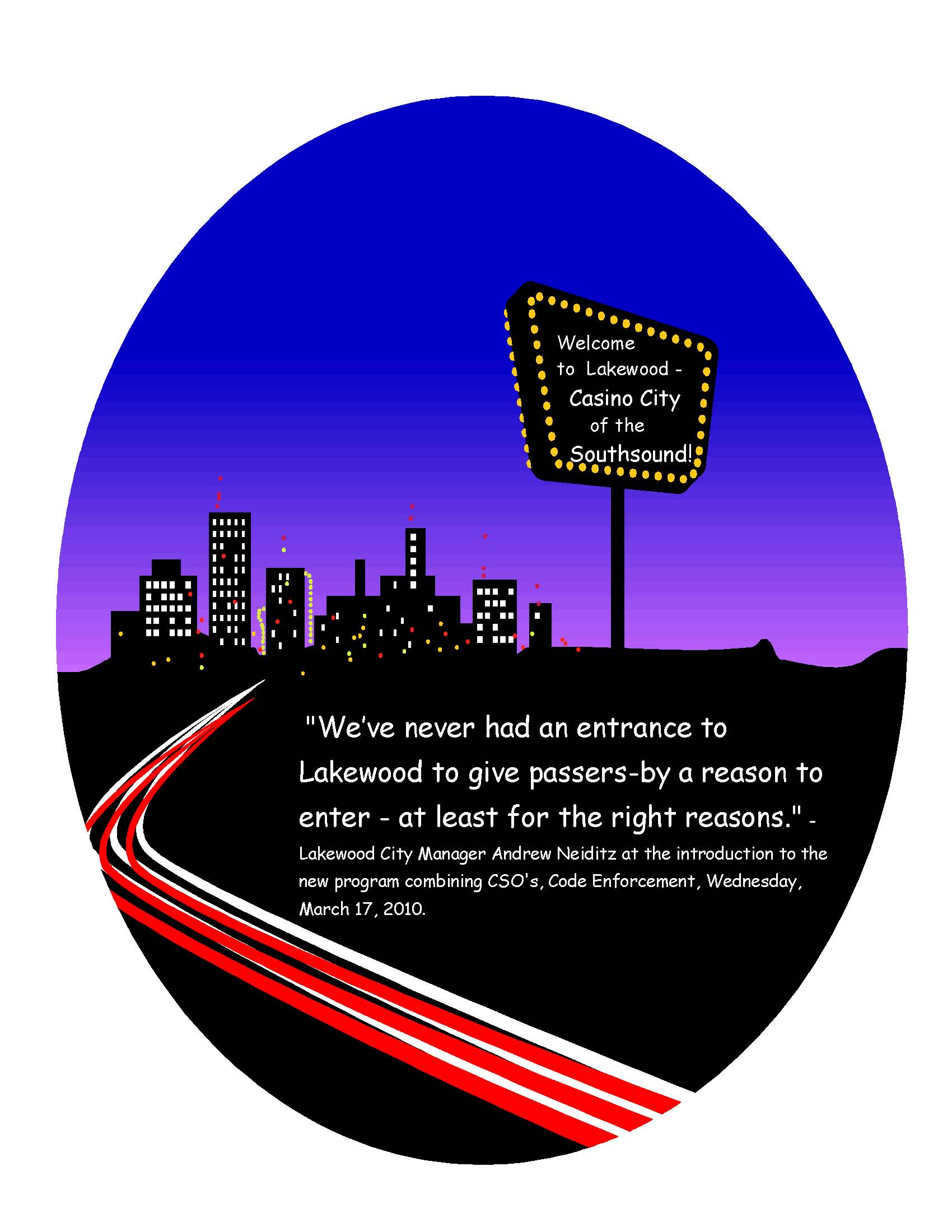 What, after all – other than baseball and apple pie – could more encapsulate what it means to be a Great American?
With this new sign, Lakewood would achieve – or at least rise higher in the headlines of infamy – a competitive edge, maybe even run the table, over the gaudy, glaring, distracting and ever-changing tribal casino billboards just down the road.
The sign could be a monument to the victory of the casino-conglomerate-and-friends over the undone-and-the-outspent who lost – in rather dramatic fashion, 62-38 percent – their 2008 initiative bid to oust the predators.
With this new sign Lakewood could return to the glory years when (September, 2007) the city led the state in the number of card room tables with 90, then earning the dubious title "the nontribal gambling capital of Washington state".
Now that wet T-shirts, bikini's and mud-wrestling in local taverns have been long-since regulated under the SOB (Sexually Oriented Business) zoning (November 1, 2004, Ord. No. 358) given such establishments "improperly operated can cause a public or moral nuisance" (p.141), and Lakewood desires to rise above its sordid past "tarnished from previous years when gang violence and crime made headlines," why not a sign to symbolize that rise above the huddled, harried, and hurried masses – not to mention poor – proclaiming 'good fun and cheap eats' along with the opportunity to win big toward which such illusion a big sign could beckon?
What possible argument could be raised against such a proposal given who we are and where we've come and who we want to be?