Just yesterday, I was having coffee with my pal, Jimmy at the Black Bear in Lakewood. Jimmy commented, "Joe, you are a Life Coach." I guess Jimmy is right. Marrium-Webster's definition of Life Coach is, "an advisor who helps people make decisions, set and reach goals, or deal with problems. The word was first used in 1986."
I have a lot of training including a late 1960s minor in Psychology, but more importantly, I have decades of life experience in a wide variety of areas. People are always contacting me in coffee shops, calling me on the phone and sending e-mail asking my opinion on a variety of problems and life challenges. They are never disappointed because I have an opinion on each and every subject. I am not always right and they do not always agree, but I do have an opinion.
If I do not have an immediate answer or a drop down menu of alternative answers, I typically know where to go to get an answer. After we complete our problem solving conversation, they think we are finished, but my brain still continues to work on their problem. Frequently I call them back and share another idea or two that is the product of my problem solving process. All of this is not a bother. I enjoy helping people.
Yes, it is true. They call me "Mr. Fixit". I guess I have an over developed male fixit syndrome. It worked well as a police officer, because every day I was faced with 10 hours worth of people with a long list of problems.
Today, I am going to attempt being a Life Coach by reaching out through my Suburban Times article-writing. Are you ready for some top caliber life tips?
Life Tip #1: Do not commit crime. Think before you act. You can get two years for just shooting your neighbor's barking dog. Remember crime does not pay.
Life Tip #2: If you ignore Life Tip #1, get yourself a sign like the one depicted in my Photo #1 below. The idea is to sell all your stuff before you go to prison so you have cash to spend in the prison store. They only give you a tiny cell, so you will not have room for all your stuff from home like chainsaws and hunting rifles anyway.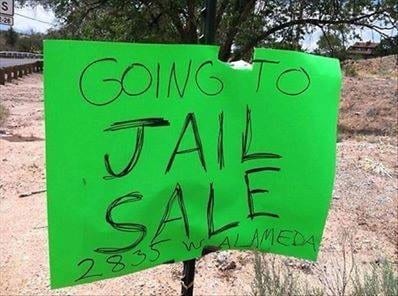 Life Tip #3: Hide a stubby number 2 pencil in your underwear. Use this contraband item to make five-marker hash marks on your cell wall in order to keep track of your hard time. If you are doing 15 years, it would really be silly to end up doing 18 years because you failed to keep track. Do your own accounting. You know you can't depend on your government to inform you when it is time to step back into the sunshine of freedom. Your cell wall should begin to look like my Photo #2 below in just a few short years; actually, if you are in prison, I should say a few long years.
Photo #2: Actual five-marker hash marks on cell wall of a really healthy serial killer.
Life Tip #4: If you heed Life Tip #1, you can skip Life Tip #2 and Life Tip #3.
Editor's Note: Would you like to receive Joe's stories exclusively to your email inbox? Then you should sign up for Instant Joe…