By Don Doman
The progress in science and technology has resulted in the more frequent use of telephones, computers and satellite guided gadgets. Though technology has been brought down from its complex and highly elevated position to our fingertips where everything is operational with a touch or a click, there are its downsides too. One of the major disadvantages is the risks involved in it. The increase in identity theft is a global concern and more and more organizations as well as individuals are falling prey to such devious operations. Basically the concept of Identity theft involves the assimilation of personal data of an individual and using it as one's own. This use of the discreet details of a person is done without the consent of the owner and that is why it is termed as a theft. Some of the very personal information and data include those of banking details, credit card details and social security details and more importantly insurance claims in which all these details are needed.
One of the real concerns is that the victim becomes the alleged perpetrator of the crime even though the crime has been committed by someone else. The victim's details are misused in a criminal offence and since the details bear the name of the victim, the victim is then persecuted and sometimes prosecuted. As a target of Identity theft, it can be a really distressing experience and that is why it is important to ensure that you have the insurance cover for such damages. With insurance coverage for such eventualities it is possible to not only protect your details as they are regularly monitored, but you also recover the losses. The insurance agencies also give you ideas and tips on the methods of protecting your personal information making it difficult for people to access it.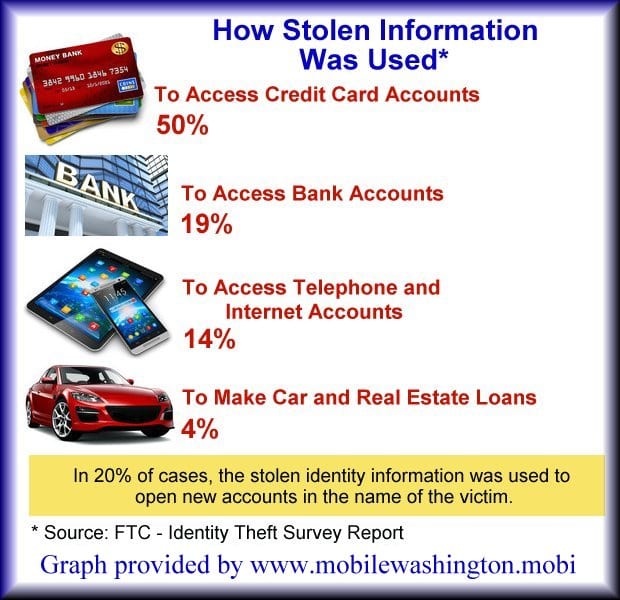 Some of the best ways that you need to adopt to safeguard your identity details properly include:
Generate a strong password which only you are likely to remember. Changing the password regularly is a great way to ensure that the password is well protected.
Shredding used documents that are irrelevant is the best way to get rid of documents containing your personal details.
Do not carry your personal details every day in your person as it could become accessible to others.
Ensure you regularly monitor you bank details, and unaccounted bank transactions which might seem to be outside of your knowledge. Report it immediately to the concerned authorities.
Online shopping is one of the most vulnerable areas where such predators exist but that does not mean you need to stop shopping online. Make sure that the site is a genuine one, that there is transparency in their dealings and that they confirm that your details are safe with them. Security signs must be checked out.
With the increase in Identity theft it has become more and more important to be vigilant and cautious. Remember the online method of sharing personal information and data is always risky, so make sure that it is restricted and be sure to share only when it is extremely necessary and with a trustworthy person or website.