By David Anderson
Caution: the following has been judged inappropriate for children.
It always seemed ironical, if not comical, that the sign warning of water ahead was placed near the water's edge not to mention at the bottom of a steep hill.  In other words by the time you read it probably it was too late.
Abundantly more so recently as the warning sign had fallen into the water and was not visible at all except to maybe a few fish swimming among the shallows.  Though travelling in schools and thus you might think then able to read, these fish, even if they could make heads or tails of their new found hieroglyph, would not have understood the warning since water is their world.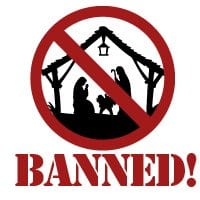 A warning sign in such a setting – as if a portent, presaging peril – makes sense neither to perch nor people, fish nor fowl.
It's common sense.  Or so you would think.
But over the river and through the woods – a lot of rivers and a lot of woods – to Frisco, Texas we go where a happy holidays winter wonderland joyous invitation to the seasonal celebration was sent to the homes of the children who – do indeed travel in schools, and who can indeed read – attend Nichols (no relation, unfortunately as you'll discover, to the jolly old St. Nicholas) Elementary School.
In the welcome to the school's "Winter Party" greeting, what to a parent's wondering eyes should appear than – totally out of sorts with common sense given the world-we-live-in's reason for the season – a warning: "Christmas trees are banned" this year. "Nor will any reference to Christmas or any other religious holiday be allowed."  Furthermore, "the colors red and green are banned too."
Come dressed all in black then maybe?  Did someone die?  And, checking their collective Christmas spirit at the door, what shall the little angels – elves, urchins, whatever it is that is politically correct to call them – sing to make spirits bright?  A dirge?
What are we protecting these little tykes from, Parson Brown?
When the pop standard "Winter Wonderland" registered as one of Perry Como's top ten in 1946, the original tune had already become a decade-old Christmastime classic.  However, since the original contained lyrics about "a couple who appear to make a spur-of-the-moment decision to get married," the snowman-become-preacher-man was torched – melted down into a puddle – to be replaced with a what was then deemed a more "child-appropriate version." Ironically, on today's schoolyards, that so-called improvement would not only be edited yet again but the "kiddies" placed in detention to be followed by anti-bullying rehab.
"In the meadow we can build a snowman,
and pretend that he's a circus clown.
We'll have lots of fun with Mister Snowman,
until the other kiddies knock 'im down!"
While it is true that schools are legally free not to celebrate Christmas, still, according to the Liberty Institute, "schools can celebrate Christmas as long as the intent is to educate and not to advance Christianity."
Display Frosty the Snowman?  Yes.  The Nativity?  Yes.  Say "Merry Christmas"?  Yes.  Wear red and green?  Yes.
Call the traditional symbol of Judaism the Hanukkah Menorah and not candelabra, and the traditional symbol of Christmas the "Christmas Tree" and not 'evergreen conifer'?
Both, resoundingly, 'yes'.
"Yes," is what got David Fried, Mayor of Robbinsville, New Jersey in the news these last few days.  "This year, the town decided to return to calling the annual tree lighting a 'Christmas Tree Lighting.'  While the mayor says they respect all religions and races, they don't want the Christmas season to get lost by trying to cater to everyone. Mayor Fried said that every time we try to cater someone or be politically correct we 'lose a little bit of who we are.'"
So singing "Joy to the World" followed by "My Favorite Things" is ok?  Coloring handouts of Santa Claus (red), decorating a hallway or classroom to include lights, candy-striped poles, carolers, teddy bear, and a reindeer is permissible?
All 'yes.'
Well, maybe not the reindeer.
Seems there's a rebellion underway among Rudolph and the gang following an upstart rogue reindeer which, not unlike some two-legged scrooges, just days before the big event fled the farm.
Some good cheer for the coming holiday though.  Children who were again anticipating father's expressive rendition of "Twas the Night Before Christmas," complete with foot-stomping sound affects to simulate the clatter of reindeer outside on the new-fallen snow, will be happy to hear that the aforementioned recalcitrant reindeer has been returned and presumably then will be harnessed to help deliver the goods as he and his antlered friends have been doing for the last 190-years since Clement Clarke Moore first put poetic pen to paper.
It's not, after all, like our world hasn't been doing this for a good while.
As water is to the world of fish, and oxygen sustains terrestrial life, Christmas is "who we are."