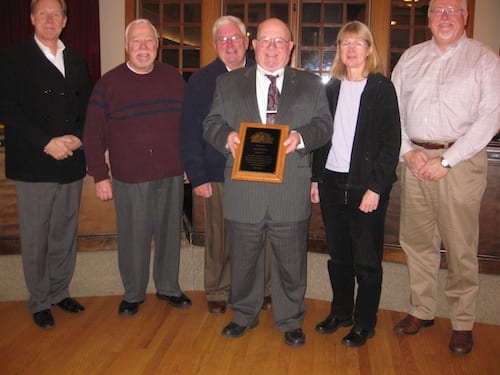 By Nancy Covert
Outgoing Steilacoom Town Council member Lowell Bier received an early holiday gift on Dec. 3. The long-time Steilacoom resident and four-year councilman was honored at the December meeting for his service to the community.
"I've had a great time (serving) Steilacoom," said Bier as he accepted an engraved plaque from Mayor Ron Lucas. "I've enjoyed every minute of it."
Mayor Lucas, joined by council members Marion Smith, Bruce Judson, Nancy Henderson and Steve Stovall, each thanked their out-going colleague for his term on the council and for his previous years of service to the Town. Before being elected to council, Bier had worked for the Town's Park Department.
Bier opted not to seek a second term on the council due to health concerns, but he did plan to continue to serve the community in another capacity.  Bier and his wife, Jeanne, have lived in Steilacoom for nearly five decades.
Paul Tinsley, Assistant Fire Chief of West Pierce Fire and Rescue (of University Place) also congratulated and thanked Bier, noting that Bier, who'd been a Steilacoom Volunteer fireman, had mentored him at the start of his own fire service career.
Mary Dodsworth, former Steilacoom parks and recreation department head, now working in a similar capacity for the City of Lakewood, added her appreciation for Lowell's many contributions to the community.
In addition to his council work, Bier also is renowned for his scroll saw skills and his longtime dedication to keeping Steilacoom's parks in good shape.
Echoing words of past council members who have served Steilacoom during the decades, Bier re-stated his belief in and commitment to "giving back to the community."
During the holiday season, the essence of Bier can be viewed in his "role" of Farmer Brown. Bier donated a pair of his denim coveralls to artist Jean Dyer Swanson to clothe her newest historic figure.
"Farmer Brown," complete with pitchfork, mustache and straw hat, was recently added to the Bair Store's festive decorations, which focus on the smart alec, runaway gingerbread man.