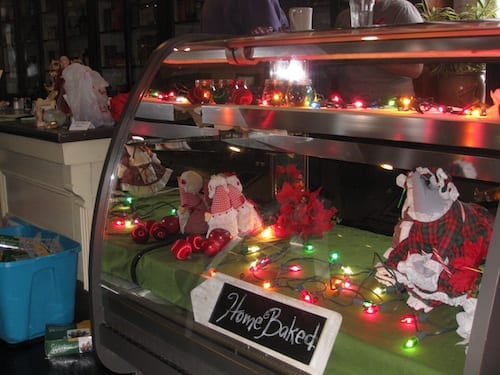 By Nancy Covert
"Run, run, run. As fast as you can. You can't catch me! I'm the gingerbread man!"
A team of gingerbread men dashed through Steilacoom early Friday morning, chanting this famous challenge.
Then, the crusty, brown racers paused in mid-flight during their post-Turkey Day run, for refreshment at the 1895 shop on Lafayette Street in the heart of the historic community.
Gingerbread men and ladies, along with hovering stirring spoon angels, fluttering hearts, antique cookie cutters, and button "ice cicles," as well as a large, lighted tree, bright green wreath, and a miniature snow-covered village, circa 1890s, were quickly incorporated into the store's décor, thanks to a team of a dozen or more decorators.
The famous Gingerbread man and his fantastic story, is featured in a series of vignettes  displayed throughout the Bair, the Living Museum property of Steilacoom's Historical Museum Association.
The decorations are the most recent creations of long-time resident Jean Dyer Swanson. Steilacoom's doyen of décor, renowned for her talents of transforming ordinary things into memorable items, (such as her front-porch historic Steilacoom figures) recruited helpers to transform the Bair's interior into an even-more festive place during December.
These seasonal decorations will remain in place until year's end. Stop by to enjoy them, and revisit the Good Old Days.