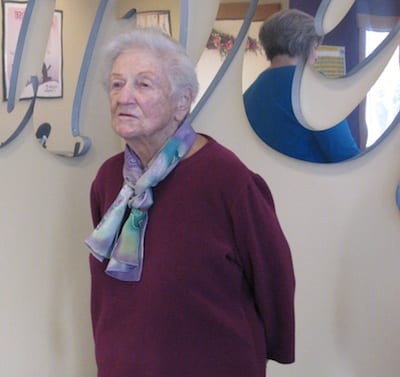 By Nancy Covert
Happy chattering sounds of youngsters at Recess on a nearby school playground echo around the corner to Bridgeport Way where adults at the Bridgeport CURVES studio are equally happy at their anytime, drop-in Recess session.
It's 11:30 a.m. three days before Thanksgiving, and about a dozen women are bouncing along to the upbeat music while toning and trimming at the same time.
Ninety-seven-year-old Irm Fletter, outfitted in trim, burgundy exercise clothes, joins the ranks and begins moving around the stations for the start of her three-times-a-week session. Quickly moving from one station to the next, she's participated in the local program since 2002.
Cathi Strom, local CURVES manager/owner, explains that University Place Curves is "a weight loss facility, specially designed for women. The 1,800 sq. ft. studio features "Curves Complete, the only program that includes exercise, meal plans and coaching—all in one place."
It's a very sociable group, too.
The biggest attraction, according to Irm, "is the relaxed, social atmosphere, as well as the freedom to move as vigorously as I want."
Strom, who's been participating in Curves for the past 12 years, credits the exercise program with keeping her fit, eating better, and just being healthier overall. About 220 other women participate in the program at the Bridgeport location, where she relocated about two years ago.
While Strom's regular clients know the routine well, come January they'll learn some new things when they join Jillian Michaels (from "The Biggest Loser") in a special Curves-only broadcast of "cutting edge total body workouts that feature the Curves Circuit strength-training machines, in conjunction with functional bodyweight-based exercises that increase metabolism and transform one's body shape."
"That's through 14 new moves every month."
These workouts, Strom continues, "boost intensity, build strength, burn fat and prevent plateaus." Curves, located at 7602 Bridgeport Way W., is open from weekdays from 6 a.m. to 7 p.m., Monday through Friday, and on Saturdays from 8 to noon.
Many insurance plans cover Curves memberships, she adds. Check your coverage and "join us for a heart-healthy, invigorating workout." Strom says a 30-minute total body workout can burn up to 500 calories per workout. No appointment is necessary.
Phone 253-565-1717 for more information.