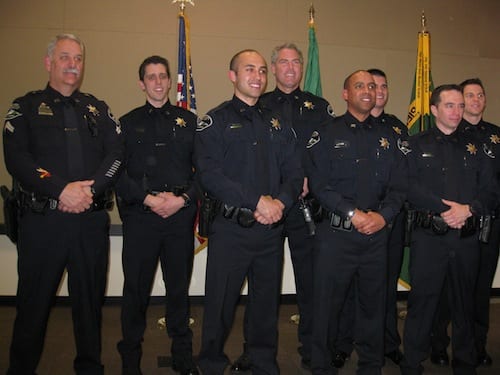 By Nancy Covert
Eight men and one woman, wearing black uniforms, stood at the front of the room. Raising their right hands, they pledged to serve the community, to safeguard lives and property, to protect the innocent against oppression or intimidation, and the peaceful against violence or disorder, and to respect the constitutional rights of all to liberty, equality and justice…"
Paul Pastor, Pierce County Sheriff, administered that Oath on a rainy November 15th afternoon, to his department's newest officers, during the Commissioning Ceremony, held at the Pierce County Environmental Services Building.
Aided by moms, dads, wives, sweethearts and close friends, each new deputy was formally "pinned" with the badge of office: a distinctive, seven-pointed gold star, featuring the state seal in the center.
Among the newest inductees, who will complete an 18-week academy before beginning official duties, were Deputies Daniel Recio, Jeffrey Gudaitis, Ashton Cannon, Michael Huffman, Benjamin Griffin, Gavin Thomas*, Emily Holznagel, Fred Wiggins, Justin Watts and Animal Control Officer Ray Wheeler.
*Thomas is a Steilacoom High School, Class of 2010 Graduate, who received his AA Degree from Pierce College three years ago, and recently completed his Bachelor's Degree from the University of Washington, Tacoma.