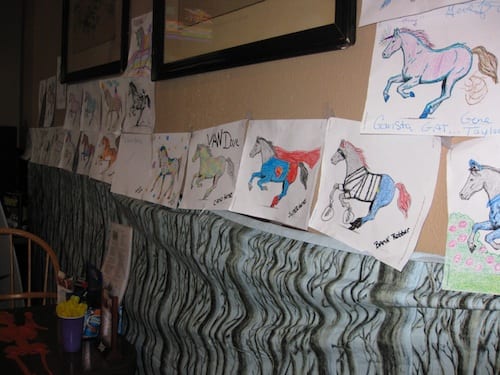 By Nancy Covert
Win, Place or Show, what kind of a costume would you make for a horse?.
Gallopin' Gertie's of Tillicum is sponsoring a different "take" on the traditional Hallowe'en costume party. This year Gertie has added a dress-up category for horses—specifically worn-out nags that reside at Yelm's "Second Chance Ranch." And the outfits are not the usual two-person variety.
A few of the entries already posted inside Gertie's horse racing-themed eatery just off Berkley and Union include: Pegasus (of course), a Superman-themed caped equine, a fancy Unicorn, and a "Ghost" Rider. (Just use your imagination)
Stop by Gertie's and pick up an entry form for $2 and let your creativity go wild..
Winning entries will be selected by Nov. 1.
Entry fees, says one Gertie's employee, "go toward oats and hay for "worn-out" nags at the Ranch."
And…they're off and running…