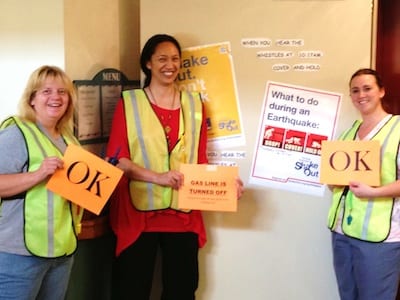 The Great Washington Shakeout was widely promoted and, in fact, was a global event focusing on earthquake and tsunami readiness. The mantra for the drill was to "Drop, Cover, and Hold On."
In University Place, Bridgeport Place Assisted Living registered to participate in the realistic drill, which took place on October 17 at 10:17 a.m.
In senior living, safety of the residents is always the top priority and this was an important exercise.  The management team at Bridgeport Place, under the leadership of Executive Director Sandy Nelson, strives to make safety of the utmost for senior residents.
Maringi Lloyd, Community Relations Coordinator at Bridgeport Place, shared some of the details of how the Great Washington Shakeout was staged in the assisted living building.  She said it was "…lots of good fun!  We had scenarios on each floor:  a gas leak in the kitchen, a fire in the gallery, and (a manager) was squished/trapped under a bookcase…"  She added that, "the staff response was better than expected.  Bunch of rock stars!  The residents covered (their heads) and held on… Those that could 'dropped', too. So did staff.  I'm super proud of everyone's response."
Altogether 138,504 people registered statewide.  Participating in a realistic drill such as the Great Washington Shakeout helps families and businesses be better prepared to survive and recover when disaster strikes.