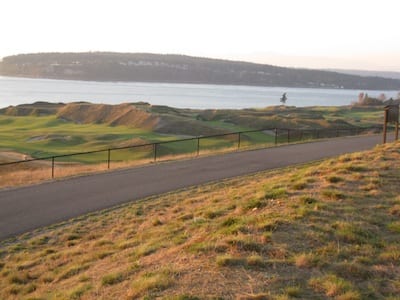 By Nancy Covert
It's 600 days—or less—and counting until Chambers Bay Golf Course becomes the "center of the universe" for golfers and their fans.
"Golf is a great spectator sport," enthused one of its cheerleaders, Danny Sink.
Sink, the USGA championship director for the 2015 championship, spoke on Oct. 11 to a large gathering of mostly golfers at Chambers Bay, giving a progress report about the upcoming event.
Although he's juggling dozens of details still to be resolved between now and June 2015, Sink's confident that all will be in place by the time that 7 a.m. June 18 Tee Time rolls around.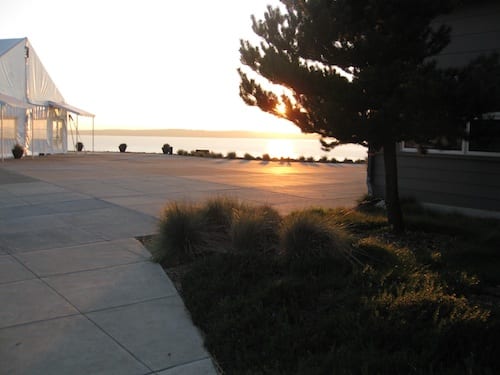 Against a spectacular, ever-changing backdrop at CBGC, tinted with splotches of bronze, pink, and crème, those shades shifted as the sun slipped behind the snow-draped Olympics that evening. In the foreground flickering flames arose from a large metal fire pit anchored on the top rim of the sloping hillside.
The view that greeted guests was reminiscent of what early explorers to this part of Puget Sound might have seen almost 200 years ago when they first sighted this towering, still-to-be discovered gravel/sand-filled mountain above the as-yet unnamed bay.
Inside the large white fabric-draped pavilion next to the clubhouse, guests listened to Sink's update about the upcoming tournament that will take place at this former gravel pit. Many of Washington's roads, stadiums and buildings have been created using materials from this site that closed in 1999.
"Chambers Bay," he said, "is really a unique course."
It's the sands that make this a true links course, he added.
He also squelched a few rumors.
"We're not building a wall (along Grandview); but the walking paths "will be fenced in" during the event.
Nor are there any "plans on the horizon for cruise ships to transport golfers/spectators."
In his role as mega-city planner, Sink oversees all aspects of this temporary "city" on the shores of Puget Sound, a city of an estimated 235,000 people: players, spectators, support staff, hospitality tents and more expected to take part in the seven-day early summer event. More than one hundred million people, he predicted, will view the event: many in person, and many via TV.
"Five thousand volunteers," he further predicts, "from around the world will take part, of which 80 percent will be local."
Details regarding transportation (Amtrak, and Sound Transit), traffic flow and accommodations are being finalized, he said.
Those interested in volunteering for the event may start signing up in January 2014.
Tournament tickets go on sale in June 9, 2014.
Today many Washington State courses are filled with sands that were removed from this site when the gravel company ceased operation about a dozen years ago, he added.
The 2010 event was just a dress rehearsal for the tournament that kicks off in little more than a year and a half. There's much still to be done.
And, after it's finished, "we want to be invited back."
Visit the Chambers Bay website at www.chambersbaygolf.com for regular updates and facts about the event.