By Nancy Covert
Libraries are more than places to find books, magazines and movies. Take this past Saturday for example…you never know what you'll find that will challenge and expand your horizons.
For example, this past Saturday the sounds of drums and conch shells filtered through the library. Elaborate feathered headdresses and intricate geometric patterned costumes were featured at Lakewood Library as part of the Library's Hispanic Heritage Month programs.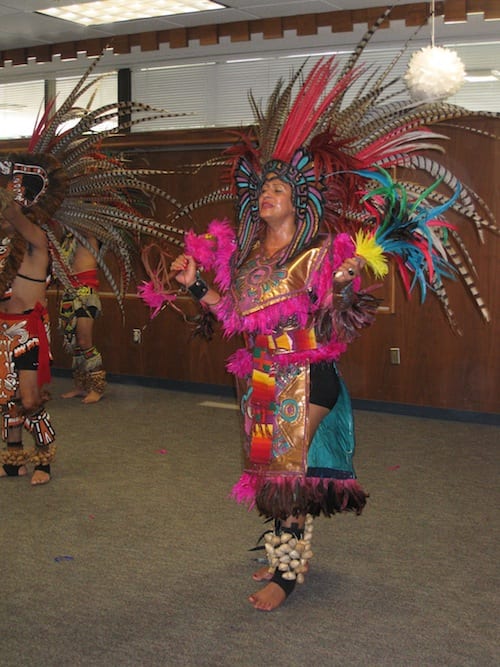 Danza Azteca, a group of nine professional dancers/musicians dedicated to preserving cultural traditions of Mexico's Aztec heritage, presented an hour-long program that featured historic aspects of this Latin American country. The dancers' costumes and music and dances were reminiscent of Native American ceremonies—and inspired an Internet search to learn more about the group's objectives—to share little-known sides of the culture.
The afternoon program was one of several held during October to celebrate Hispanic Heritage Month.  The library's on-going outreach programs also include computer and language classes.
"Trial by Fork," a British take on formal dining, is scheduled for November at the Library. Historic re-enactor Tames Allen previews preparations for a 12-course meal—as would have been served at Downton Abbey. Allen's presentation is set for at 7 p.m. on Monday, Nov. 18 at Lakewood Library.
Check out future programs at the Lakewood Library, sponsored by Lakewood's Friends of the Library. And don't miss the Friends' traditional book sale set for Oct. 19.