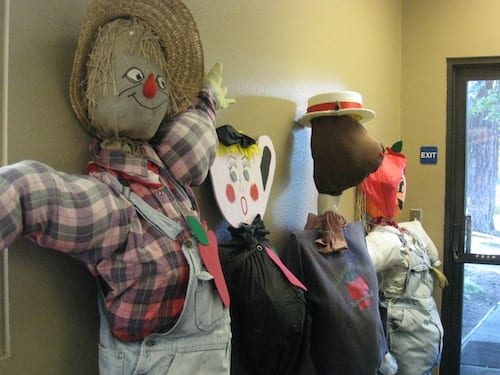 By Nancy Covert
Inventory: a dozen—or more—pairs of pants, same amount of shirts, hats, checkered tablecloths, plus lots of straw—a few pipes—some talented designers, and what have you got? Steilacoom's Scarecrows!
The straw folks were assembled this past Thursday afternoon at the Steilacoom Community Center by half a dozen creative members of the local Garden Club.
"It's hard to dress a stick and a wire!" observed one Scarecrow- maker.
The "crows" are the 2013 crop; part of the 10th year for this town tradition.
The scarecrows—designed to "scare" away birds, of course—have been placed throughout the downtown area and will be available for photos, especially on Oct. 6, Apple Squeeze Day.
Residents who want their own scarecrow creations to be judged should sign up at the Bair Store Kiosk. Judging is set for Oct. 12, with winners announced on Oct. 15, said Lenore Rogers, Garden Club member.