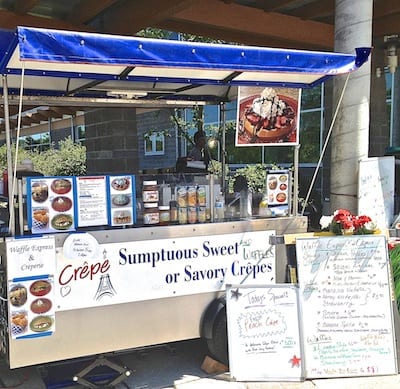 Story & Photo – Joseph Boyle
Have you visited the City of Lakewood's Farmer's Market yet? Learn more about our own Farmer's Market here.
There are lots of fun things to see and the market offers a variety of fresh food products, art, crafts and an entertainment stage. You can have lunch at the market too.
The Farmer's Market is located next to Lakewood City Hall at 6000 Main St SW, Lakewood, Washington 98499.
The market will be open this year from June 4, 2013, through September 17, 2013 on Tuesdays, from 11:00 to 3:00. Once a month they extend the hours to 7:00 p.m. If you miss the market this year, be sure to check it out next year.
Live music on the entertainment stage.
While the City of Lakewood did not invent the farmer's market concept, they adopted the idea and I am pleased they have done so. The Lakewood Market enhances our quality of life in several ways.
During one of my visits to The Lakewood Farmer's Market, I met Ms. Debbie Zessin. Debbie owns the Waffle Express & Creperie which is a self contained sidewalk vendor cart business. You can learn more at her Facebook site.
Think about this. Mr. Howard Schultz traveled to Europe. He returned with an idea discovered during his travels; the neighborhood coffee shop. He establishes a coffee business called Starbucks, with over 30,000 locations world wide.
Like Mr. Schultz, Debbie traveled to Europe. She falls in love with crepes while waiting in a long line to ride the London Eye.
Debbie returned to America with a new business idea for a business involving a sidewalk vendor cart offering waffles and crepes.
I am ashamed to admit to you that just like Howard Schultz and Debbie Zessin, I travelled to Europe. Unlike Howard and Debbie, I spent too much time focused on drinking French wine at a sidewalk cafe in Paris. All I remember is thinking I was living the imaginary life of Ernest Hemingway. So when I returned to America, I did not have one single idea for a new business.
Debbie opened her vendor cart this past April, 2013. It all came about after she followed her daughter, Jessica, to Europe. Jessica, who was nominated as a Washington State Ambassador of Music in 2012, is an accomplished clarinet player. A group of four students from Graham – Kapowsin High School travelled with 200 other students from all over Washington State.
Debbie's original idea was to try to do something that would be a fund raiser to generate money to send other student ambassadors to Europe. It currently costs about $5,600 for each student.
If you visit the Lakewood Farmer's Market, look for Debbie's cart. She has meal crepes, like Chicken Pesto and desert crepes like fresh peach crepes.
You can find her preparing waffles and crepes in the following locations:
Lakewood Farmer's Market – Tuesdays, 11:00 – 3:00 pm. Once a month the market is open from 11:00 a.m. to 7:00 p.m.
South Tacoma Way Farmer's Market – Sundays, 11:00 – 3:00.
Broadway Farmer's Market (Downtown Tacoma) – Starting around September 12, 2013.
Packwood Flea Market – Both Labor Day Weekend and Memorial Day Weekend.
Special Events – Debbie can bring her cart right to your home or special event venue. Her service should fit into anyone's budget. Having a crepe vendor present for your occasion will certainly add to the atmosphere of your party.
You can reach Debbie at Waffle Express and Creperie.
Tell Debbie Joe Boyle sent you.