Betty Wellington worked for many years as a travel planner for AAA.  She has just celebrated her 100th Birthday with a festive party in the Gallery/Library at Bridgeport Place Retirement and Assisted Living.
Betty had lived in her own condo in Issaquah all by herself until just a couple of years ago when she decided to sell it and move to Pierce County to be closer to her son and daughter-in-law, Bob and Juanita Wellington of Lakewood.  Ever since her arrival in the local community she has continued an active role in welcoming other newcomers to Bridgeport Place.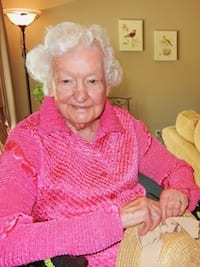 To help celebrate Betty's 100th Birthday, her former neighbors from Issaquah drove down to University Place to join in the festivities.  Betty's whole family including grandchildren and great-grandchildren were all present, as well.
Betty always makes sure to find out who's moving in and makes a point of visiting with them to help them become acquainted.  She is a great friend to all.  Whether it's current events or meeting and greeting her newest neighbor, you can be sure that Betty Wellington doesn't miss a beat.  She is connected and engaged, and clearly enjoys life.
Betty participates in most of the scheduled activities whether it's in the Art Class taught by Carolyn Osborne, the Hand-Bell Choir or outings to the Rose Garden at Point Defiance or Owens Beach, as well as frequent walks.  She always keeps a sunny disposition and is a delightful person to know.
What a privilege to have had Betty Wellington in this world for the past 100 years and we all wish her many more years of enjoying life to the full.